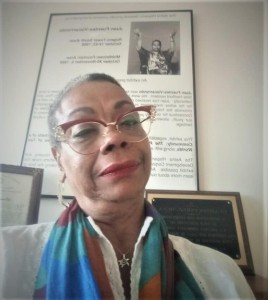 Glaisma Perez Silva has muses that inspire her poetry – her identity as a black Puerto Rican woman, her migration from Puerto Rico, the things she sees around her.
When the muses speak, Perez Silva is ready to listen. An idea will arrive and Glaisma will grab whatever she has at hand – even a napkin will work under the right circumstances – to get her thoughts down.
"That's why sometimes you have to take advantage of the moment or it will disappear and you will say, 'what was that?' It is difficult to catch it, or it will come in a different form," she said. "Once you learn to identify the magic of the moment, the words will flow."
Perez Silva, a long time Hartford educator, will share her poetry at Hartford Public Library's Revolutionary Latinas performance, taking place Thursday, March 18 from 7 to 8 pm on HPL's Facebook and YouTube pages. She will be collaborating with a musician and dancer on a piece about Latina identity, she said.
An educator for the past 40 years, Perez Silva came to Hartford from Puerto Rico in 1988 as part of one of the city's last bilingual teacher recruitment efforts. "I did not realize I was a poet until I came to Hartford and started feeling the loneliness of being away from my homeland and my family," she said. "It depends on the circumstances to provoke the muse."
At first, Perez Silva kept her poetry to herself, ashamed of sharing her words. She branched out slowly, offering her work to a couple of close friends. "When you are sharing your poetry, you are sharing an intimate part of yourself," Perez-Silva said.
The friends decided to take the leap and present their poetry for a small invited audience. One step at time, the gatherings got bigger, until Perez Silva was part of public performances all around Hartford. "For years I have been evolving in different ways," she said.
Glaisma writes and performs in Spanish, her native language. It's important to her to create that way, a small act of cultural rebellion she proudly engages in. She said that when writing in Spanish her voice becomes more concrete and assertive. Her poetry can be demanding and patriotic, and then shift to a tender, mellow, sexy tone.
She is proud of her cultural heritage and deeply respects the way writer Julia Alvarez has represented the uniqueness of the Dominican culture in "In the Time of the Butterflies. "There is a common language, but there are also differences that are unique and make us proud of our homelands," she said.
By Steven Scarpa, manager of communications and public relations
– 30 –