October is National Cookbook Month, and did you know Hartford Public Library is full of great cookbooks where you can learn new recipes?
Since it's fall, and we love everything pumpkin, we're going to feature some recipes from The Pumpkin Cookbook, just one of many of the great titles we have in our collection. Try out one of the recipes below, and then search our catalog for another cookbook and find something new to make!
PUMPKIN BUTTER
2 cups canned unsweetened pumpkin
3/4 cup brown sugar
1 tablespoon fresh lemon juice
1 teaspoon grated lemon zest
1/4 teaspoon ground allspice
1/4 teaspoon ground cinnamon
1/4 teaspoon ground ginger
1/8 teaspoon ground cloves
Combine all the ingredients in a sauce pan and cook over medium heat, stirring constantly for 20-30 minutes (until dark & thick). Cool and refrigerate in a glass jar. Enjoy!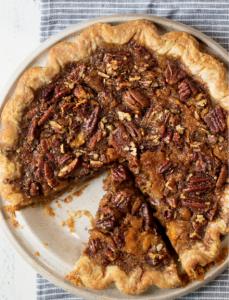 SOUTHERN PECAN PUMPKIN PIE
2 cups chopped pecans
1 pound fresh pumpkin, seeds and fibers removed, cut into chunks
3 eggs
1 cup dark brown sugar
3/4 cup dark corn syrup
3 tablespoons unsalted butter, melted
2 tablespoons bourbon
1 teaspoon salt
1/2 teaspoon ground cinnamon
1/4 teaspoon ground nutmeg
Partially baked 9-inch piecrust
1. Heat the oven to 350 degrees.
2. Spread the pecans on a baking sheet and toast for 5 to 7 minutes until lightly browned and fragrant. Cool on a wire rack.
3. Microwave the pumpkin on high for 5 minutes, or until easily pierced with a fork. When cool, peel and cut into enough 1-inch chunks to measure 2 cups. Mash slightly.
4. Increase the oven temperature to 375 degrees.
5. Whisk together the eggs, sugar, corn syrup, butter, bourbon, salt, cinammon and nutmeg in a large bowl. Add the cooled pecans and pumpkin. Spoon into the piecrust.
6. Bake 35-45 minutes, until filling is set. Cool for at least 1 hour and 30 minutes before slicing.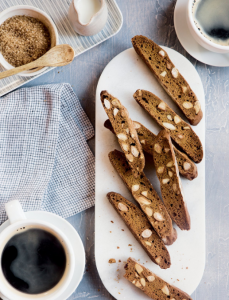 ALMOND-PUMPKIN BISCOTTI
3/4 cup (1 1/2 sticks) unsalted butter, softened
2 cups dark brown sugar
3 eggs
1 teaspoon vanilla extract
3/4 cup canned unsweetened pumpkin
3 cups unbleached all-purpose flour
1 tablespoon ground cinnamon
1 teaspoon ground allspice
1 teaspoon baking powder
1 teaspoon ground ginger
1/2 teaspoon salt
1/4 teaspoon ground nutmeg
1 1/2 cups almonds, coarsely chopped
1. Beat together the butter, sugar, eggs and vanilla in a large bowl until light and fluffy. Stir in the pumpkin.
2. Sift the flour, cinnamon, allspice, baking powder, ginger, salt and nutmeg together into the creamed mixture and continue beating until well mixed. Stir in the almonds.
3. Refrigerate the mixture in the bowl for at least 2 hours.
4. Heat the oven to 350 degrees. Line a cookie sheet with parchment paper.
5. Divide the dough into two mounds and turn one out onto a floured board. With floured fingers, shape the loaf, 1/2 by 3 inches wide. Repeat with second mound. Place the loaves on the cookie sheet, leaving about 4 inches between them for expansion. Bake for 35 to 40 minutes, until golden brown. Cool on a wire rack.
6. Reduce the heat to 300 degrees.
7. Slice the loaves diagonally and place cut-side down on the cookie sheet. Bake for 15 to 20 minutes per side, or until dried out.
8. Cool completely and store in a loosely covered container for up to two weeks.
PUMPKIN-RICE PUDDING
5 cups whole milk
1/2 cup Arborio rice
1/2 cup canned unsweetened pumpkin
1/3 cup sugar
1 cinnamon stick
1/4 teaspoon salt
1/3 cup raisins (optional)
1 egg
1 teaspoon finely grated lemon zest
1 teaspoon vanilla extract
1. Heat the milk, rice, pumpkin, sugar, cinammon stick and salt in a large saucepan over medium heat, stirring occassionally, until tiny bubbles form around the edge of the pan and steam rises.
2. Reduce the heat and gently cook, uncovered, for 45 minutes, or until the rice is tender and the pudding thick but still soupy. Stir frequently, especially toward the end of the cooking time, when the mixture thickens. Add the raisins, if using, in the last 10 minutes of cooking. If possible, put a heat diffuser under the pot to keep the heat evenly distributed and to prevent scorching the milk, something you definitely don't want to do.
3. Beat the egg with a fork in a small bowl. Spoon some of the pudding into the egg. Slowly add this egg mixture to the pudding, stirring constantly and keeping the heat low. Cook for 1 to 2 minutes, or until the pudding thickens some more.
4. Remove from the heat, stir in the lemon zest and vanilla and cool slightly before thoroughly chilling. Remove the cinnamon stick and serve in dessert dishes.