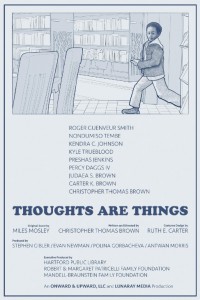 Christopher Brown, Production Manager of HPL studios, recently wrote and directed Thoughts Are Things, a short film executive produced by Hartford Public Library (HPL). "Thoughts Are Things is a story about the importance of the reading, libraries, and small acts of kindness" said Christopher. "Neither of which are popular subjects, so it's an honor to see the film be embraced in the way it has been. The little boy in the film that pulled himself up through reading, and the use of library represents me"
Thoughts Are Things has been making its way around the awards circuit and making a name for itself. The film won Platinum Remi Award for Dramatic Original short film production at WorldFest Houston International Film Festival 2022 and Best Short Film at Charlotte Black Film Festival. It was nominated for the 54th NAACP Image Award, Hollywood. Thoughts Are Things screened in the Hampton Block on August 8th at the Martha's Vineyard African American Film Festival. It was selected for Hollyshorts 2023 where it screened in SAG Indie Block on August 12th. Thoughts Are Things was also selected for the 2022 Palm Springs International Film Festival's ShortFest, in the Market Library.
The Martha's Vineyard African American Film Festival (MVAAFF) is one of the most accredited short film showcases. The film screened to a packed Hampton University: One of the Wonders of the World, HBCU Audience in the vineyard. Thoughts Are Things participated in the Facebook Virtual Winter MVAAFF from December 23-31, 2022, where it accumulated over 17.5k views by December 31, 2022.
HPL Studios is the media production arm of the Hartford Public Library that will provide access to media production tools and experts to support lifelong learners, partners and community stakeholders with guided learning and opportunities for self-paced exploration and content creation with digital storytelling as a means of workforce development.
HPL Studios will produce industry-standard- audio and visual content that represents, supports, and helps to innovate the culture of HPL, while inspiring and informing Hartford residents about the vast possibilities & career opportunities offered in professional media.
"The success of this film is evidence that reading, libraries, and small acts of kindness are subjects people appreciate. Thoughts Are Things is a testament to the vision and foresight of HPL CEO Bridget Quinn, who was the first to see the values in the story. We need more Bridget's. We need more visionaries, who are able to see outside the box" said Christopher Brown.
Thoughts Are Things is still making it's rounds and is excited to be included in more Film Festivals and hopeful to bring more awards home to Hartford.
For a full list of awards and festivals, see below:
The Pan African Film Festival
WorldFest Houston International Film Festival, where it won the Platinum Remi Award for Dramatic Original Short Production
March On Washington Film Festival
San Diego Black Film Festival
Charlotte Black Film Festival, where it won Best Short Film