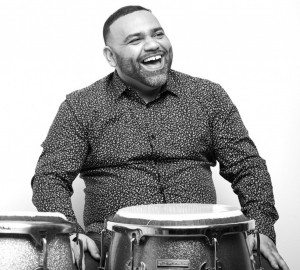 Nelson Bello, a well-known Connecticut-based percussionist and Hartford native, is featured on Hartford Public Library's (HPL) The Beat, a 24 hour streaming service featuring the some of the best of Hartford regional musicians. Nelson began his musical studies at the Hartford Conservatory Jazz Summer Program at age 13 and the Performing Arts Academy in Hartford Connecticut. At 15, he traveled to Cuba for the International Jazz Festival (with Latin Flavor, now better known as INSIGHT) and invited guest Pianist Chucho Valdez.
Nelson is co-founder of the Latin Jazz band TROMBEATZ. You can find their first recording titled A Caribbean Thing on The Beat. Over the years, Nelson performed with Andy Gonzalez, Cheo Feliciano, Ismael Miranda, Tony Vega, Charles Flores, Zaccai and Luques Curtis, among others.
The Beat is a collection of Hartford regional based music, curated by the Hartford Public Library and a group of Community Curators from the Hartford music community. Streaming the sounds of Hartford's diverse communities The Beat delivers commercial-free, curated music from artists who represent CT's Capital City. Jam, groove, or vibe out to Hartford's best tunes, which can be accessed, 24/7, through a user-friendly digital music platform, free of charge. You can also download your favorite tracks for free, as long as you are a Hartford Public Library card holder.
HPL is honored to have someone of Nelson's talents be included in The Beat. Discover your new favorite musician on the current The Beat's roster that includes up-and-coming artists and Hartford music legends. To learn more about The Beat head to their website: https://thebeathartford.co/
Our Communications and Marketing Director, Jess Emonds, had a chance to ask Nelson a few questions. Read the full interview below!
Can you tell us a bit about what you play/group/genre? How long have you been playing music?
I've been a percussionist for over 25 years and have played with many artists in both tropical music (salsa) and Latin Jazz. I am the co-founder of Trombeatz, and we specialize in Latin Afro Caribbean Jazz.
What made you want to become a musician or who inspired you to make music?
Listening to Tito Puente, Giovanni Hidalgo and local legends is what got me inspired to want to become a musician.
What is it about music that makes you feel passionate?
I love music of all sorts, but when I preform for the people and they love it, it gives me more drive to leave it all on the stage.
What is the best advice you've been given?
The best advice I was giving as a youth was "practice every day".
What is your favorite thing about Hartford?
My favorite thing about Hartford is the diversity! Every show I do, I see all ethnicities enjoying what we do.
Do you have a favorite library memory?
I remember as a kid, going to the original Park Street Branch to get books and later in life I gave workshops there.
Would you mind sharing what you are currently reading and/or listening too?
In my listing rotation I have various artists. Cuban singer and musician Alain Perez, Diego "El Cigala", who's a flamenco singer and Mario Bauzá, an Afro-Cuban Jazz musician, just to name a few.