Hartford Public Library has received a $487,853 grant from the federal Institute of Museum and Library Services (IMLS) to launch a new program to expand banking access among immigrant communities, combating financial exclusion and helping build wealth among this growing population.
Building Social Capital: An Inclusive Approach to Immigrant Financial Integration was awarded a National Leadership Grant from the IMLS, the federal agency that is the main financial supporter of libraries and museums. Hartford Public Library will partner with Liberty Bank, the Connecticut Association for Human Services and the Cities for Financial Empowerment Fund Bank On on the project, which is expected to launch in the Spring.
"This innovative program will support unbanked and underbanked immigrant communities by linking individuals with trusted experts in the banking field, demystifying financial products and services and saving program participants tens of thousands of dollars over their lifetimes in fees and interest," said Hartford Public Library President and CEO Bridget E. Quinn. "Raising the financial health of local immigrant, refugee and migrant communities makes our city, our region and our state stronger. We are grateful to our partners at Liberty Bank, the Connecticut Association for Human Services and the Cities for Financial Empowerment Fund for joining us in this effort and to the Institute of Museum and Library Services for funding this important work."
Despite immigrants' crucial role in growing the U.S. economy, the record-breaking size and diversity of this segment has created a critical demographic that remains marginalized from the American financial mainstream.
This initiative offers a unique learner-centered, project-based approach, utilizing a Learning Circle framework. The practice of Learning Circles has become increasingly popular in education; not only do they foster community and mutual trust, but also enrich the academic as well as the social and emotional dimensions of education. The social aspect of Learning Circles is also embedded in a familiar grassroots practice among many immigrants for managing their finances, and is popular among many cultures across the globe known as Rotating Savings and Credit Associations (ROSCA) or Lending Circles. This project expands the social capital that organically develops in Circles to fostering a responsive and ongoing partnership directly between the participant and their local bank.
In Building Social Capital: An Inclusive Approach to Immigrant Financial Integration participants will sign an agreement to deposit $50 per month for five months into a savings account with Liberty Bank that will be administered by the library. When the participant reaches their goal of $250, the money is transferred to an individual account under their name and they will receive an additional $250 and can decide to close the account or maintain it. Those who maintain an account balance of at least $250 for five more months will receive an additional $250 from Hartford Public Library donor funds.
Participants will meet for three hours every other week during the five-month period for financial education as well as networking opportunities and facilitated dialogues led by community leaders on topics related to quality of life issues of concern raised by the participants. Those who complete the program will have the opportunity to enroll in Liberty Bank's Credit Builder Loan & Saver Program that offers interest-free loans to help establish a good payment history, an important step to building a better credit score.
The program is being overseen by The American Place at Hartford Public Library, which has a successful track record over more than 20 years of providing services and programs for immigrants and refugees.
"This significant federal grant will increase financial literacy and build stability in Hartford immigrant communities," said U.S. Sen. Richard Blumenthal. "Public libraries are a cornerstone of our communities. The Hartford Public Library's Building Social Capital program is innovative, important and inspiring. I am so pleased to see the Hartford Public Library receive this grant and I will keep fighting to bring these critical funds back to Connecticut."
Establishing a checking or savings account and maintaining a positive credit score will allow individuals access to financial products and services so they don't have to regularly rely on money orders, check-cashing services, payday loans, rent-to-own agreements or pawn shops, all of which come with added costs and fees. According to a Brookings report, a full-time worker with a checking account can save as much as $40,000 over his or her career by relying on a lower-cost checking account instead of check-cashing services.
"As a strong corporate citizen and community partner, our goal is to help create more equity and assist families on the road to financial security by providing better access to opportunities for all," said Liberty Bank Vice President of Community Development and CRA Officer Glenn Davis. "This program will not only provide expert advice, literacy resources and support for local immigrants, refugees and migrants, it will also improve their financial health and long-term wellbeing as valued members of our community."
By Tricia Haggerty-Wenz
The 2022-23 season of the ArtWalk at Hartford Public Library kicks off with an exhibition by Wethersfield artist Brigid Kennedy entitled "Visual Narratives" that explores the impact of COVID-19 and rising global social/political turmoil.
"I felt compelled to develop a new, innovative body of work for my artistic practice and for my viewers: healing and narrative paintings that chronicle the social issues of our time," she says.
"Visual Narratives" will open with a reception on Friday, Sept. 16, from 5:30-7:30 p.m. on the ArtWalk at the Downtown Library. The following interview with Brigid Kennedy has been edited for length and clarity.
Share with me your thoughts about how this exhibit came together.
"This is a body of work that I've been developing since 2020 and deeply influenced by COVID and the current social/political landscape. Before 2020 I had been focusing primarily on creating sculpture but the challenges of the current moment took me on a new path with my art.
"It began with a small series of handwashing paintings, showing we can try to avoid spreading the virus. During the pandemic handwashing became almost iconic as it came into the forefront of our shared consciousness as a simple way to represent the COVID experience. The work grew to include five themes: work and class, COVID and family, consequences of war, voting rights and landscapes."
How did landscapes become a part of the series where the other pieces feel so interwoven with the moment?
Working with social/political issues can be a very heavy subject matter. War, racism, refugees, it all can become pretty dark. Working on my landscapes was a way of finding some relief. In the most recent paintings, I've enjoyed the process of combining the view inside and outside to create something more surreal. I'm focusing on my immediate surroundings in these paintings, taking something ordinary and making it more abstract and engaging. The viewer has to work a little harder to see what is truly going on in the painting.
Tell me about the path that has led you to this moment in your life.
"I got a BA in philosophy from the University of Toronto and then went on to get a bachelor's of fine arts from SUNY Buffalo. After that I did my graduate work at Yale School of Art where I received my MFA. The next step was New York City where I worked mainly on large-scale, outdoor installations. I came up to Connecticut to teach and have been here ever since."
So your art practice has taken my different paths.
"Sculpture and drawing, watercolor, large and small works … and currently I am enjoying the pace of what I am working on now in the form of small paintings. I enjoy pushing the limits and developing my craft."
This body of work is really eye catching.
"The color and composition in this work is really important. After many years of working in monochromatic neutrals and earth tones in sculptural pieces, I now really enjoy the attention I give to color in this series as it lends the work an expressive quality. I also like that the work is small. This invites the viewer to have a more intimate experience with each painting."
You recently retired from working as a high school art school teacher. What are you plans for this time in your life?
"I hope to continue to work in my studio full time, to have more time for my art, to create more and to show more. I've enjoyed volunteering in my community. I hope to travel more because travel changes one's perspective; it's a great resource and inspiration for artists. "
We are so happy you sharing your work with our audience and patrons through your Artwalk exhibit.
"It is a beautiful open space, with lots of natural light. While I was installing the show it was so cool to look out the big windows and see Bushnell Park and the City of Hartford! This new vantage point on the city made everything look beautiful and fresh. This has been a wonderful and unexpected part of my journey."
Hartford Public Library will be displaying the paintings of Ellen Sinclair Junger in an exhibition from September 1 to October 12, 2022, at the Downtown Library. The collection, entitled "Carousel Memories," showcases the hard-carved wooden ponies of the Bushnell Park Carousel. 
Ellen had a deep connection to the carousel throughout her entire life. The Bushnell Park Carousel's original home was Meyer's Lake Park, a popular amusement park in Canton, Ohio that was owned by Carl Sinclair, Ellen's father. Ellen always wanted to be a painter, and at age 18 she moved to Boston to study painting at Endicott College. She then worked with Expressionist painter Hyman Bloom after graduation. Ellen always carried fond memories of the carousel, which she called the Merry-Go-Round, and it was a major inspiration for much of her artwork. 
"Years later the Merry-Go-Round became the 'Carousel' of my first oil paintings," said Ellen. "I had been inspired to paint because I wanted to capture the wonder and magic that those prancing horses held for me. Then, after the Merry-Go-Round was sold to Bushnell Park, I again painted it, this time in pastel."
This collection of Ellen's paintings was originally exhibited at the Canton Art Institute in 1987 in a memorial tribute to her late brother George C. Sinclair. After Ellen's passing in 2021, her family donated the paintings to the City of Hartford and the Bushnell Park Foundation. Hartford Public Library will be hosting the exhibition of these paintings.
The 2022-2023 season of Hartford Public Library's ArtWalk will open next month with an exhibition of paintings created by Wethersfield artist Brigid Kennedy focusing on issues of social justice during the ongoing COVID-19 pandemic. Paintings explore the pandemic's impact on issues such as immigration, education, mental health, race and class.
Originally a sculptor, Kennedy transitioned to painting for this exhibition, titled "Visual Narratives." She utilized acrylic paint, oil paint and pen. With regard to how the medium of her art influences the subject matter, Kennedy explains, "The painting surfaces I use illuminate color and allow me to create images that engage visually while shining a light on these societal challenges. My work chronicles the human condition, making connections through memory, lived experience and creative vision."
Brigid Kennedy has worked in both New York City and Central Connecticut as an artist, and she has also created site-specific exhibits in Europe and South America. Most of her earlier work is abstract sculpture, but she has recently changed her focus to painting. Her work is displayed in the  collections of The Burchfield Penney Art Center; The New Britain Museum of American Art; Pratt Institute; and Trinity College.
This exhibition marks the start of a season featuring a diverse group of artists who each examine unique themes through their work.
ArtWalk at Hartford Public Library is open to visitors from 9 a.m. to 6 p.m. Monday through Thursday and 9 a.m. to 5 p.m. Friday and Saturday. The gallery is located on the third floor of the  Downtown Library at 500 Main St., Hartford, CT 06103. This season is funded by the Edward C. and Ann T. Roberts Foundation and Suzanne Hopgood in memory of Frank Lord.
The 2022-2023 ArtWalk Season Lineup
Visual Narratives
Brigid Kennedy
Exhibit runs: September 16 – November 13, 2022
Reception: Friday, September 16, 2022, 5:30-7:30 p.m.
Brigid Kennedy's paintings represent the pandemic's effect on social justice and injustices.

Ebb & Flow
Barbara Hocker 
Exhibit runs: December 2, 2022 – January 22, 2023
Reception: Friday, December 2, 2022, 5:30-7:30 p.m.
Influenced by her practice of yoga, Tai Chi and Qi Gong, Hocker's "Ebb & Flow" exhibition depicts the importance of the many forms of water in nature –– waterfalls, oceans, skies and rivers. The exhibition is composed of digital photography, printmaking, water media and encaustic on paper. Hocker holds a degree in fibers from Syracuse University's College of Visual & Performing Arts and attended Cranbrook Academy of Arts. She maintains a studio in the  Arbor Arts Center in Hartford.
In Living Memory
Traé Brooks 
Exhibit runs: February 10 – April 2, 2023
Reception: Friday, February 10, 2023, 5:30-7:30 p.m.
"In Living Memory" is a tribute to Brooks' grandmother, Linna A. Brooks, whom he describes as his "foundation growing up." The exhibit consists of portraits, domestic installation, reading material, music and scent to commemorate her legacy and explore Brooks' own family history. Brooks holds a bachelor of fine arts degree from the University of Hartford and currently works as a gallery employee at WORK_SPACE in Manchester.
Art is Work; Work is Art
Joe Bun Keo, Rick Bogdan, David Borawski, Jon Eastman and Christopher Schoeder
Exhibit runs: April 21 – June 10, 2023
Reception: Friday, April 21, 2023, 5:30-7:30pm
Despite coming from different backgrounds and having different interests, each artist in this group works as a museum professional assembling exhibits or private collections. This mixed media exhibit examines the intersection of art and labor, and how labor is itself art.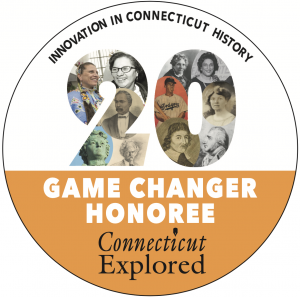 The Hartford History Center at Hartford Public Library has been selected as one of Connecticut Explored's 20 for 20 Game Changers. A nonprofit that publishes a magazine about Connecticut history under the same name, Connecticut Explored is celebrating its 20th anniversary by naming 20 "Game Changers," projects and people who represent the future of Connecticut history. 
Located at the Downtown Library, the Hartford History Center boasts an extensive digital and print historical archive of Hartford life from the 1630s to now. Connecticut Explored recognized the Hartford History Center for its devotion to Hartford's unique culture through various events and exhibits. These include the Hartford Changemakers summer program; Encounters partnerships with UConn, the Wadsworth Atheneum Museum of Art and Connecticut's Old State House; and recent displays that have focused on Hartford barber shops, Hartford's Hip Hop history and the Connecticut women's suffrage movement.
"We are proud to mark the milestone of our 20th year with this important, forward-looking project," said Kendall Wiggins, chair of the board of Connecticut Explored. "Though we as an organization are by definition focused on history, our team decided to look forward rather than back, highlighting a diverse array of people and programs across the state that are changing the game by exploring the future of Connecticut history. Thank you to the staff, Board members, volunteers, and other supporters for their invaluable contributions to this important project."
The Hartford History Center will host a public event featuring Game Changers Elena Rosario and Pablo Delano on Wednesday, September 21st at the Park Street Library @ the Lyric. Rosario is a Ph.D candidate and historian whose research focuses on Puerto Rican migration to Hartford, and Delano is an artist and educator who has created the conceptual art installation The Museum of the Old Colony. The two Game Changers will discuss the influence of Puerto Rico and its history on their work. The exhibit Puerto Ricans Making Hartford Home will be open for viewing from 6 to 7 p.m., and the Game Changers discussion will take place from 7 to 8 p.m.
The 20 for 20 Game Changers will be honored by Connecticut Explored at a celebration on October 6 at the Mark Twain House and Museum.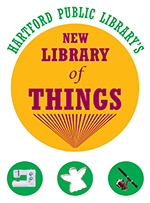 By Lily Sweeney
Libraries are not just for books anymore. Although Hartford Public Library possesses tens of thousands of books across its six branches, it also provides a variety of other items and services to the community. HPL's Library of Things, as well as its in-person programming and online resources, hold some of the library's most unique resources. From cake pans to knitting needles to fishing rods to blood pressure monitors, HPL has exactly what you need. Here is a list of just some of HPL's lesser-known offerings. 
Looking to make an upcoming birthday or celebration extra sweet? Hartford Public Library has two cake decorating kits available for checking out. These sets contain a wide array of tools like rotating turntables, piping bags, cake flower lifts and more, so your cake will look like it came straight from a professional bakery. HPL also has 13 different cake pan shapes to choose from. While you're here, check out a cookbook to ensure that your cake tastes as good as it looks. 
HPL's resources extend beyond media and recreation. The library has resources and services available for patrons' health as well; 17 blood pressure monitors are available at six HPL branches.
HPL not only has a Library of Things; it also has a special Children's Library of Things, home to many toys, book bundles and activity sets. HPL has 13 STEM Labs on the Go, which are crafts and activities for kids related to science, technology, engineering and math. Kids can check out the Code-a-Pillar, a motorized caterpillar composed of different segments programmed to control its movements; a nature explorer kit, a bundle of binoculars, nets, and flashlights perfect for exploring the outdoors; or a Spirograph kit, a drawing kit of wheels and rings that combines art with engineering and math principles. 
A library card at HPL not only grants you access to the resources at its six branches, it also gives you free access to dozens of local museums. HPL library cardholders can reserve museum passes for free or at reduced prices up to 60 days in advance at places like the Basketball Hall of Fame, the New Britain Museum of Art, the Children's Museum and Roaring Brook Nature Center, the Mark Twain House and Museum and others. If you're looking for children's activities for the final weeks of summer before the school year begins, the Connecticut Summer at the Museum program is running until Sept. 5. This program grants a child and an accompanying adult free admission to over 130 Connecticut museums during the summertime. 
HPL offers free devices and technology training so that everyone can stay up to date with the expectations of our technology reliant world. This summer, HPL is offering a Digital Inclusion program where participants can learn how to navigate social media, websites, online paperwork, email and more with the help of a Digital Navigator. This program will provide participants with a free laptop or device if needed. The library also has free Wi-Fi hotspots that patrons can borrow. Additionally, HPL can connect patrons with resources to access the Internet at a more affordable rate, including the FCC's Affordable Connectivity Program and Xfinity Internet Essentials. 
HPL has an assortment of online resources to access digital content including music, films and television shows. HPL library cardholders can watch thousands of critically acclaimed movies on the streaming platform Kanopy by typing in their card number and PIN or password. Cardholders can also access Kanopy Kids for animated shows to entertain and educate younger audiences. If you are passionate about music, check out Qwest TV for a collection of concerts and music documentaries.
Looking to learn a new skill, revisit an old hobby or maybe just mend a hole in your shirt? HPL has you covered. With a sewing machine, crochet kit and knitting set available in the Library of Things, patrons can get crafty with ease.
If you're looking for a more active pastime than sitting and reading, HPL has a collection of sports and recreation equipment available for checkout. As summer comes to an end and the weather slowly begins to cool off, now is the perfect time of year to get outside and try something new, like cricket, fishing, badminton or volleyball.
For children who are blind or have various print challenges, HPL has partnered with the Windsor nonprofit CRIS to make reading more accessible. CRIS, the Connecticut Radio Information System, is a radio station that provides services for people who are blind or print-challenged. The CRIS book bundles at HPL contain five books with an MP3 player preloaded with the books' corresponding narrations as well as stickers and reading incentives. HPL has 25 book bundles available for checkout.
10. Gaming consoles
Although not available for checkout, YOUMedia, HPL's teen center at the Downtown Library, has its own Nintendo Switch, Playstation 4, and XBOX One consoles for teens ages 13 to 19 who are interested in gaming. YOUMedia also has its own Twitch channel for streaming.
A handful of young Hartford students are now published authors thanks to a partnership between SINA (Southside Institutions Neighborhood Alliance) and Hartford Public Library.
The winners of the first-ever REACH Book Contest were announced at the Park Street Library @ the Lyric on Thursday, August 18th. Their books — which were written during the month of April and incorporated the theme of Earth Day — have been printed and are available for borrowing at Hartford Public Library.
The winning selections were: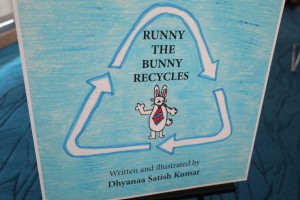 Runny the Bunny Recycles
Written and illustrated by Dhyanaa Satish Kumar (Glastonbury-East Hartford Magnet School)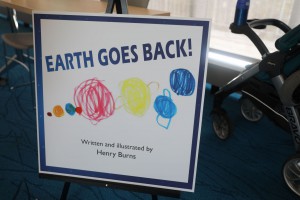 Earth Goes Back!
Written and illustrated by Henry Burns (Noah Webster School)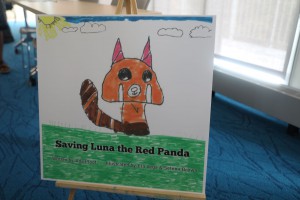 Saving Luna the Red Panda
Written by Ada Ploof and illustrated by Ela Vega and Selena Brown (Noah Webster School)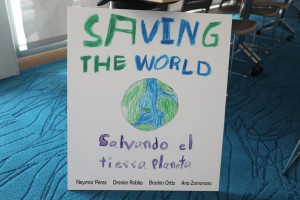 Saving the World (Salvando el Planeta Tierra)
Written and illustrated by Neymar Perez Ortiz, Drenier Robles Baez Broshin Ortiz and Ana Zamorano (Sanchez School)
Ryan Calhoun, vice president of strategy and care integration at Connecticut Children's hospital and the SINA REACH chair said the contest was inspired by the viral story of an 8-year-old boy in Idaho who snuck a handwritten book about what he did over his Christmas break onto the shelves of his local library. When librarians discovered the new addition on the shelves they asked the boy's permission to add it to their collection and "The Adventures of Dillon Helbig's Crismis" became a sensation, with hundreds joining a waitlist to borrow it.
"We said, 'Wouldn't it be great if we had a nice little contest for our students in the area and see what they come up with, let them use their imaginations.' And look at these four books we have today — so much creativity," Calhoun said. "It was really exciting for us, we were happy to be able to bring this idea to reality, we're so excited … to get a chance to read the amazing work that's been created here."
By Jennifer Sharp, Hartford History Center archivist
The Hartford History Center at Hartford Public Library was recently awarded a grant from the National Film Preservation Foundation for the restoration and digitization of a collection of films taken by radio pioneer and inventor Hiram Percy Maxim in the early 20th century.
The $18,830 grant will provide for ultrasonic cleaning, a 4K scan, scene to scene color/density correction, insertion of an NFPF logo, 16mm film-out intermediate negative and silent answer print, a 16mm 400' archival can, 16mm 400' reel and creation of a digital access file. Two reels also require redimensioning. The work will be performed by Colorlab of Rockville, Maryland.
Hiram Percy Maxim was an explorer. Whether inventing new technology such as the Maxim Silencer, pioneering the American Radio Relay League, creating airplane parts, yachting, or studying astronomy, Maxim was constantly seeking out new frontiers. His work has had lasting benefits, in Hartford and around the world.
Maxim was born in Brooklyn, New York. His father, Sir Hiram Stevens Maxim, was an inventor, as was his uncle, Hudson Maxim. Hiram Percy Maxim married Josephine Hamilton, the daughter of a former Maryland governor. They had two children, Hiram Hamilton and Percy.
Maxim first came to Hartford in 1895 to work for the Pope Manufacturing Company. His initial task, accomplished two years later, was the creation of the Columbia electric motor carriage. He continued working as an automobile designer and engineer until the formation of Maxim Silent Firearms Co. in 1908. The Maxim silencer, used to suppress the sound of firearm discharge, was eventually discontinued. Maxim found ways to use the technology to eliminate noise in other ways, such as through ventilating spaces.
Today, Maxim is studied as a result of his hobbies. A Hartford Courant article at the time of Maxim's death states that in the years preceding passage of the first U.S. radio law in 1912, "his amateur station was in communication over the limit of ranges possible in those early days of radio." In 1914 Maxim founded the American Radio Relay League, which remains in operation today. Internet searches indicate that Maxim is revered by amateur radio enthusiasts.
Relevant to this project, Maxim also enjoyed motion picture photography. In 1926 he was instrumental in the formation of the Amateur Cinema League, which also exists to this day. An award was named for him following his death.
Hiram Percy Maxim passed away in Colorado, while on a trip to California. The trip was to include astronomical research in Arizona, another of his many hobbies.
Maxim's wife, Josephine, has a place in Hartford and Connecticut's history, too. Her accomplishments included being the first Connecticut woman appointed to the Democratic National Convention, serving as a member of the Hartford Board of Education and an executive committee member of the Connecticut Woman Suffrage Association and founding the Connecticut League of Women Voters. She is featured in some of the films, including one about the meeting of her garden club. In addition to depicting engineering history, Maxim's films also provide a glimpse into the lives of Hartford's society women. This is an area our collection that is otherwise lacking.
The films feature both Maxim and his wife, along with their family and friends. Hartford is recorded in many ways, including footage of flooding in November 1927 and the view from the city's first air mail plane. Reels show young children at the orphan asylum, and ladies touring gardens. Maxim's humor often comes through, with a Friday the 13th reel that plays backward and a scene of Paul Butterworth's "house warming" (the building was on fire). Outside of Hartford, Maxim captured the Hepburn family diving at Fenwick and several trips to locations throughout the United States.
Calling all astronauts! Join educators from The Children's Museum at Hartford Public Library this month for an out of this world week exploring the moon, Mars and the stars. Meet live animals who helped pioneer space travel, discover the stories kept in the constellations and see if you have what it takes to be a rocket scientist. After attending the library programs your adventure will end with a field trip to The Children's Museum in West Hartford! We are offering this program in three separate sessions:
Dwight Library
Monday, August 8th, 10 a.m.
Wednesday, August 10th, 10 a.m.
Thursday, August 11th, 10 a.m. (field trip)
Albany Library
Tuesday, August 16th, 2 p.m.
Thursday, August 18th, 2 p.m.
Friday, August 19th, 2 p.m. (field trip)
Downtown Library
Tuesday, August 23rd, 2 p.m.
Wednesday, August 24th, 2 p.m.
Thursday, August 25th, 2 p.m.
Friday, August 26th, 2 p.m. (field trip)
Program is for children ages 6-12. Registration is required here.
Hartford Public Library is partnering with the nonprofit Vision to Learn to provide free eye exams and free eyeglasses to city youth this month at library locations across Hartford, just in time for the start of the school year.
The program is open to children ages 5 to 18. No insurance is necessary. Appointments are required and can be made by calling the library at 860-695-6300.
According to Vision to Learn, an estimated 40,000 children in Connecticut's Alliance School Districts, a group that includes Hartford Public Schools, go to school each day without glasses needed to see a whiteboard, read a book or participate in class.
Once an appointment is made, the child and an accompanying adult will visit the library during their allotted time for a free eye exam conducted on site by Vision to Learn's trained experts. Children who are in need of eyeglasses will be provided with a pair free of charge.
Vision to Learn visited two Hartford Public Library locations earlier this summer, providing dozens of children with eyeglasses.
The schedule for Vision to Learn's August visits is as follows:
August 15
Dwight Library
7 New Park Ave.
August 16
Barbour Library
261 Barbour St.
August 17
Albany Library
1250 Albany Ave.
August 22
Camp Field Library
30 Campfield Ave.
August 23
Park Street Library @ the Lyric
603 Park St.
August 24
Downtown Library
500 Main St.