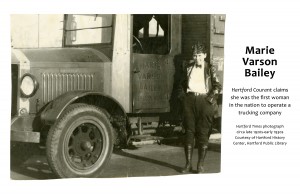 A woman stands proudly next to her truck, wearing a bow tie and sharp looking boots.
The photo itself is arresting, but the caption is perhaps even more so. It's a photo of Hartford resident Marie V. Bailey in the 1920s – the first woman to own a trucking company in United States.
Bailey's tiny slice of history is part of the Hartford History Center exhibition of black and white photographs of extraordinary Hartford women from the Hartford Times collection.
"It seems to be resonating with people," said Maureen Heher, curator of the exhibit.
This past winter, Heher went through the archives of the Hartford Times, a now defunct newspaper that existed from 1817 to 1976. The photographic archives, known in newspaper parlance as the photo morgue, was well organized, Heher said, so she decided to look for photos of ordinary women doing extraordinary things.
More notable Connecticut residents had biography boxes devoted to photos of their work and their lives. Individual photos were lumped together by the first letter of their last names. It was among the ordinary people, the women who didn't usually get their names in the paper, where Heher found a treasure trove of materials.
Heher chose a mix of the prominent and the unknown. For example, Ella Grasso, Connecticut's first female governor, is displayed alongside Edna Acosta, the first woman to graduate from the Connecticut Military Academy with a second lieutenant's commission. Gwen Reed, a community activist and actress, is depicted near Barbara Allen, the first woman employed by the United States Weather Bureau.
The juxtapositions are part of the exhibit's power.  "This set of women breaking barriers resonates because we still have so many barriers to break," Heher said.