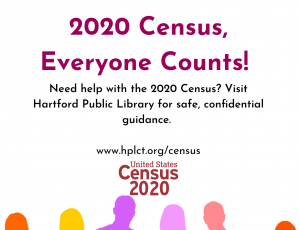 Hartford Public Library encourages city residents to take advantage of adjustments to the timing of 2020 Census activities to complete the survey at home.
"The safest and most convenient way to participate in the 2020 Census is to do so online. If we don't count everyone, we may be leaving money on the table," said Hartford Public Library CEO and president Bridget Quinn-Carey, referencing the Census' role in the distribution of federal money to support education, housing, and health care, among many other areas.
Due to the spread of the COVID-19 virus, the United States Census Bureau announced that it would delay and extend different aspects of its operation.
The self-response phase, where households can respond online, on the phone, or via mail, has been extended to August 14.
Census takers will now drop off invitations to take the Census through May 1.
Census Bureau staff will assist people with responding online at places such as grocery stores and community centers, starting April 13 through August 14.
Census takers will interview households in person that have not responded online, by phone, or by mail, starting May 28 through August 14.
Census enumerators will be counting group facilities from April 16 to June 19.
Census takers will work with service providers at soup kitchens, shelters, and regularly scheduled food vans to count the people they serve, starting April 29.
Homeless and transitory individuals will be counted starting in late April and early May.
The goal is to deliver counts to the White House by the end of 2020 and redistricting counts to the states by April 1, 2021.