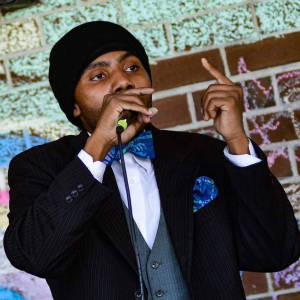 Hartford resident Blessings Divine was out at dinner one evening with friends and the talk turned serious – the state of the world, how things were going, the kind of deep conversation that can happen when people of different backgrounds come together.
They then turned to Blessings and asked him a light question about some song lyrics.
It was that moment where Blessings realized it wasn't enough to just be an entertainer.
Blessings, a 27-year-old Hartford hip hop artist, will bring his positive brand of hip hop to Hartford Public Library's "Friday Jams" this week on Facebook, YouTube, and Instagram. "Positivity is the absolute core of everything in my life," he said, noting that his first name is an acronym for "Bringing Life Equality So Self Is Naturally God's Standard."
Divine combines rapping with what he calls "a psychology seminar." He keeps his concerts fun because in that way he's able to introduce some serious things for people to consider.
"There is no special circumstance to define anything. It's just you. You are the thing you need to make your life better," he said. "You can find yourself and learn who you are. You can let that light inside you reach everyone outside of you."
The quest for radical self-invention is mirrored in his own life. Blessings is, in many ways, a Renaissance man – he's a dancer and visual artist. He teaches martial arts. He is a serious writer and poet. When you combine all of that, he considers himself a lyricist. "When you put (poetry and music) together, it's kind of like rapping," he said. "That's where I found my medicine to be the most potent."
Divine performs, collaborates with other musicians, and gives talks all around the city and the region. He was scheduled to open for legendary rapper Big Daddy Kane at the 15th International Trinity Hip Hop Festival at the end of March, a concert cancelled in the wake of the coronavirus.
That hasn't stopped him from continuing to create and trying to remind people that they are not stuck, that with knowledge, will, and persistence, they can have the life they've always dreamed of.
"I'm on a mission to heal as many people as I can," Divine said.
To check out Blessings Divine's music, visit his website http://blessingsdivine.com/
- By Steven Scarpa, Manager, Communications and Public Relations
-30-