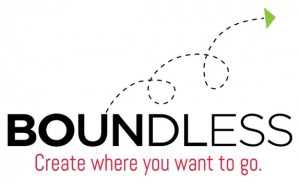 The Boundless partnership between Hartford Public Library and Hartford Public Schools was recently featured in the School Library Journal. We are proud to be in the company of other school districts and libraries that are strengthening partnerships to support their students and communities.
Dr. Leslie Torres-Rodriguez, superintendent of the Hartford Public Schools, offered a few words about the partnership.
"We are thankful to our partners-in-learning at the Hartford Public Library for working beside us, shoulder-to-shoulder, to increase educational access for our beautiful and capable students. Boundless provides greater access to paper books and digital resources to help our students develop that crucial, life-long love of reading. When I was a child, the Park Street public library branch was my second home. It was my love of reading that helped to secure my future.
Boundless benefits our students, teachers, families, and the entire school community. And it profoundly supports our literacy goals which we know are key to student success.
Supported by a Media Specialist, this is a traditional library where the past and future meet; combining all the tools our students need to thrive in the 21st century.
We are excited about the tremendous benefits this partnership is bringing to Rawson School and we hope that this pilot program will be implemented at more schools in the future."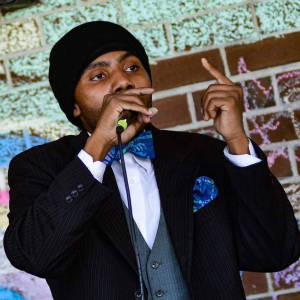 Hartford resident Blessings Divine was out at dinner one evening with friends and the talk turned serious – the state of the world, how things were going, the kind of deep conversation that can happen when people of different backgrounds come together.
They then turned to Blessings and asked him a light question about some song lyrics.
It was that moment where Blessings realized it wasn't enough to just be an entertainer.
Blessings, a 27-year-old Hartford hip hop artist, will bring his positive brand of hip hop to Hartford Public Library's "Friday Jams" this week on Facebook, YouTube, and Instagram. "Positivity is the absolute core of everything in my life," he said, noting that his first name is an acronym for "Bringing Life Equality So Self Is Naturally God's Standard."
Divine combines rapping with what he calls "a psychology seminar." He keeps his concerts fun because in that way he's able to introduce some serious things for people to consider.
"There is no special circumstance to define anything. It's just you. You are the thing you need to make your life better," he said. "You can find yourself and learn who you are. You can let that light inside you reach everyone outside of you."
The quest for radical self-invention is mirrored in his own life. Blessings is, in many ways, a Renaissance man – he's a dancer and visual artist. He teaches martial arts. He is a serious writer and poet. When you combine all of that, he considers himself a lyricist. "When you put (poetry and music) together, it's kind of like rapping," he said. "That's where I found my medicine to be the most potent."
Divine performs, collaborates with other musicians, and gives talks all around the city and the region. He was scheduled to open for legendary rapper Big Daddy Kane at the 15th International Trinity Hip Hop Festival at the end of March, a concert cancelled in the wake of the coronavirus.
That hasn't stopped him from continuing to create and trying to remind people that they are not stuck, that with knowledge, will, and persistence, they can have the life they've always dreamed of.
"I'm on a mission to heal as many people as I can," Divine said.
To check out Blessings Divine's music, visit his website http://blessingsdivine.com/
- By Steven Scarpa, Manager, Communications and Public Relations
-30-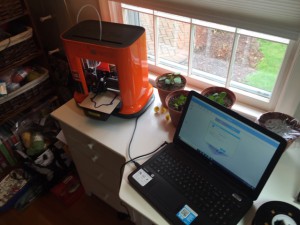 Hartford Public Library has deployed its small fleet of 3D printers into the fight against the spread of coronavirus.
Four of the organization's six machines were taken from the Downtown Library and placed in the homes of staff members who are working diligently to make mask adaptors for UConn Health. The other two printers will be retrieved from HPL's neighborhood libraries and pressed into service as well.
The mask adaptor is a plastic frame that fits around the nose and mouth, allowing UConn Health to adapt its current stock of masks to be more effective in preventing the virus.
Keith Petit, property administration manager for the UConn Health office of logistics management, said that they have a stock of masks that were purchased for a previous outbreak which have technically expired. However, the N95 Filters themselves do not expire, just the elastic on them. So there is an opportunity to save the masks.
"Because the elastic gets brittle with age it won't give a good seal to your face, so they are worthless. By putting an adapter over your face with a new elastic band they become useful again. This is how we were able to repurpose old masks. We also modified the adapter to have spikes, which allows us to use alternate materials like surgical wrap which has filtration qualities similar or exceeding to N95," Petit wrote in a recent e-mail.
HPL President and CEO Bridget Quinn-Carey knew that other libraries around the country were assisting health care providers by creating masks and other equipment. When UConn Health reached out for assistance, she didn't hesitate to say yes.
"With the library closed, it feels like we're not able to be on the front lines as we often are during a crisis — when there is a storm or other disaster libraries are often the ONLY public places open for people to gather, charge devices, get information or supplies. It feels so strange not being open and unable to directly help people — doing this is something we can do to proactively help," Quinn-Carey said.
Little coaxing was needed to find staff members who were eager to help.
"Our colleagues were just as eager to say yes and get this underway as I was — we have an amazing team. It says so much about them that they were willing to gather and pick up the printers and set them up at their homes — talk about working remotely," Quinn-Carey said.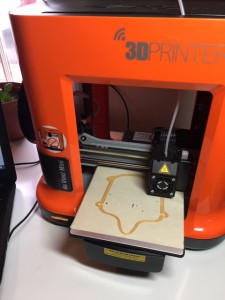 The printing process is time consuming. It takes about a half hour to print a single mask. Once printed, librarians will drop the masks off at the Downtown Library, careful to take all necessary social distancing precautions, and the masks will be brought to UConn Health.
Marie Jarry, director of public services, said the library is working through its stock of filament – the tough fiber used in 3D printing – and will make as many masks as possible. She expects that the current allotment of filament will make upward of 100 adaptors.
When the filament is depleted, Jarry said the library will go out and buy more raw material. "We have a good amount in stock and we are going to be purchasing more," she said.
With 3D printers now pushed into action, Jarry is considering another library resource; its stock of sewing machines. "I am going to see if we have anyone willing to sew the cloth masks that people are asking for," Jarry said.
The virus is expected to hit its peak in Hartford County sometime in May. The pressure on healthcare providers isn't expected to let up anytime soon. In the meantime, in this one particular way, Hartford Public Library will be there to help.
"As long as they keep asking, we'll keep making them," Jarry said.
- By Steven Scarpa, Manager, Communications and Public Relations
– 30 -
In a time of uncertainty and anxiety, people often return to their old favorites, the books, films, shows, and music that are certain to bring them joy.
So we asked the HPL staff to share what makes them happy with the hope that it might inspire you too. We'll periodically share their recommendations with you.
We'd also love to hear about the stories and music that bring you happiness – just shoot us a note at contactus@hplct.org
Mackenzie's Recommendations:
When I'm looking for comfort, I love to curl up with a cup of tea and my kitty and escape into whimsical worlds full of endearing characters. My two favorite go-tos are the book The Night Circus by Erin Morgernstern and the cancelled-too-soon TV show Pushing Daisies by creator Bryan Fuller.
As soon as I finished The Night Circus, I wanted to pick it right back up again. It was simply enchanting. The story is about a competition between two magicians that takes place at a traveling night circus. However, what makes the book so captivating is the atmosphere it creates. Morgenstern's writing is so rich and beautiful that you feel you could almost smell the candied popcorn or reach out and touch the black-and-white striped circus tent. The characters are also fascinating in strange and colorful ways. While the pace may be slow for some, I highly recommend The Night Circus to any romantic who loves magic! You can check out the e-book here: https://hplct.axis360.baker-taylor.com/Title?itemId=0009429889&ISBN=9780385534642
Pushing Daisies, another magical romance, is hard to describe. It is a kind of "forensic fairy tale" with witty dialogue, a storybook-like style (narrator and all), and an abundance of pie. The plot of the show centers on Ned, a pie-maker who has the ability to bring the dead back to life for a brief time and who uses his magical abilities to solve murders. However, the show is so much more. "Movies with Mikey" describes Pushing Daisies as a "wonderful, odd, captivating, beautiful, clever, quirky, and majestically strange show," and that pretty much sums it up. You can watch it for free on The CW Seed here: https://www.cwseed.com/shows/pushing-daisies
Coincidentally, the ever-soothing voice of Jim Dale (narrator of the Harry Potter audiobooks) narrates both The Night Circus audiobook and Pushing Daisies!
Irene's Recommendations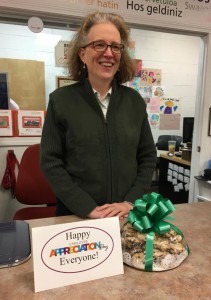 I enjoyed watching Little Women on PBS television's Masterpiece Theater this past weekend.  It is based on the novel by Louisa May Alcott, Little Women.  It is the story of sisters Meg, Jo, Beth, and Amy, as they navigate what it means to be a young woman:  from gender roles to sibling rivalry, first love, loss, and marriage.  I always enjoy a strong, independent, spirited, and freethinking young woman character trying to find her place and way in the world, which I found in the sister, Jo.  It was a pleasure to vicariously experience the March family's strong, loving bond and their ability to find enjoyment in life's simple pleasures, despite the absence of the father, who was serving as a chaplain in the Civil War, and later the absence of the mother, who went to nurse the sick father.
I would recommend the book, Falling Upward:  A Spirituality for the Two Halves of Life by Richard Rohr.  This book taught me that experiencing challenges, mistakes, loss of control, and suffering that actually shock us out of our prior comfort zone offers us true growth, meaning, and fulfillment.  The author shows this by drawing on the wisdom from time-honored myths, heroic poems, great thinkers, and sacred religious texts.
Gabriela's Recommendations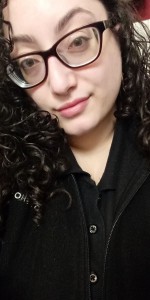 I love musicals and plays. Hartford Stage is one of my most favorite places in Hartford. I loved Anastasia and another play called Somewhere. It's a story about a Puerto Rican family in 40s. The mother who works in a theater and her 4 kids who she's trying to raise all on her own trying to keep the family afloat and her kids out of the gangs. She wants a better life for them and it really reminded me of my own mom. She worked hard to make ends meet and make sure her kids were good.
I love the classics like Funny Girl and Funny Lady with Barbara Streisand, West Side Story, Grease.
As for movies, I love anything with Robin Williams. He's just the best. You can't go wrong with The Sandlot. I grew up in a house with 4 boys, we were always watching that movie.
In music I'm currently stuck on this British singer named JP Cooper. No one I know has ever heard of him but I absolutely love him. Lately I've been getting into older Spanish music that my parents used to play when we were younger, old stuff like Earth, Wind and Fire. You need something to keep your spirits up during these difficult times.
Will's Recommendation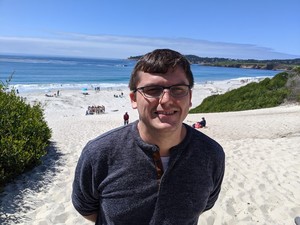 I was trying to think of what books/films/TV shows etc, and for me, my comfort medium is music.
Feel free to share: https://open.spotify.com/playlist/6jdR1XdigP4J3idU5cEA4l?si=9KXPeN3BQMyakQV28GEYnQ
-30-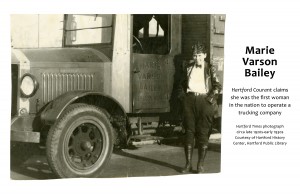 A woman stands proudly next to her truck, wearing a bow tie and sharp looking boots.
The photo itself is arresting, but the caption is perhaps even more so. It's a photo of Hartford resident Marie V. Bailey in the 1920s – the first woman to own a trucking company in United States.
Bailey's tiny slice of history is part of the Hartford History Center exhibition of black and white photographs of extraordinary Hartford women from the Hartford Times collection.
"It seems to be resonating with people," said Maureen Heher, curator of the exhibit.
This past winter, Heher went through the archives of the Hartford Times, a now defunct newspaper that existed from 1817 to 1976. The photographic archives, known in newspaper parlance as the photo morgue, was well organized, Heher said, so she decided to look for photos of ordinary women doing extraordinary things.
More notable Connecticut residents had biography boxes devoted to photos of their work and their lives. Individual photos were lumped together by the first letter of their last names. It was among the ordinary people, the women who didn't usually get their names in the paper, where Heher found a treasure trove of materials.
Heher chose a mix of the prominent and the unknown. For example, Ella Grasso, Connecticut's first female governor, is displayed alongside Edna Acosta, the first woman to graduate from the Connecticut Military Academy with a second lieutenant's commission. Gwen Reed, a community activist and actress, is depicted near Barbara Allen, the first woman employed by the United States Weather Bureau.
The juxtapositions are part of the exhibit's power.  "This set of women breaking barriers resonates because we still have so many barriers to break," Heher said.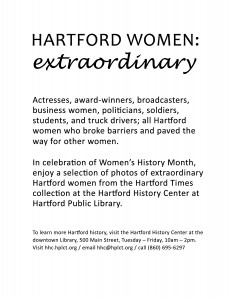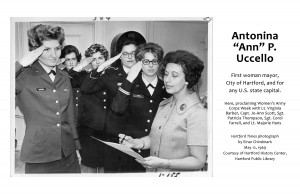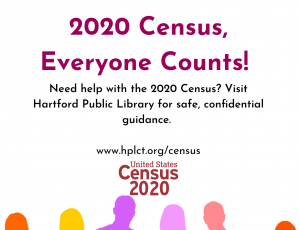 Hartford Public Library encourages city residents to take advantage of adjustments to the timing of 2020 Census activities to complete the survey at home.
"The safest and most convenient way to participate in the 2020 Census is to do so online. If we don't count everyone, we may be leaving money on the table," said Hartford Public Library CEO and president Bridget Quinn-Carey, referencing the Census' role in the distribution of federal money to support education, housing, and health care, among many other areas.
Due to the spread of the COVID-19 virus, the United States Census Bureau announced that it would delay and extend different aspects of its operation.
The self-response phase, where households can respond online, on the phone, or via mail, has been extended to August 14.
Census takers will now drop off invitations to take the Census through May 1.
Census Bureau staff will assist people with responding online at places such as grocery stores and community centers, starting April 13 through August 14.
Census takers will interview households in person that have not responded online, by phone, or by mail, starting May 28 through August 14.
Census enumerators will be counting group facilities from April 16 to June 19.
Census takers will work with service providers at soup kitchens, shelters, and regularly scheduled food vans to count the people they serve, starting April 29.
Homeless and transitory individuals will be counted starting in late April and early May.
The goal is to deliver counts to the White House by the end of 2020 and redistricting counts to the states by April 1, 2021.
If you are a Hartford resident and don't have a HPL card, getting one online is easy and will give you access to online books, films, music, and online databases.
Step 1 – go to hplct.org. Click on "Using Your Library" in the menu in the header on the upper right hand corner of your screen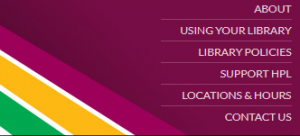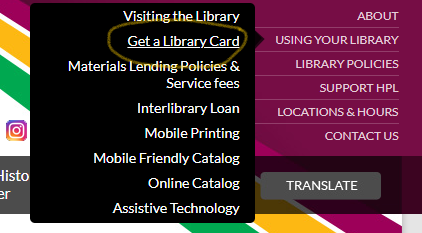 Step 4 – Fill out the online form.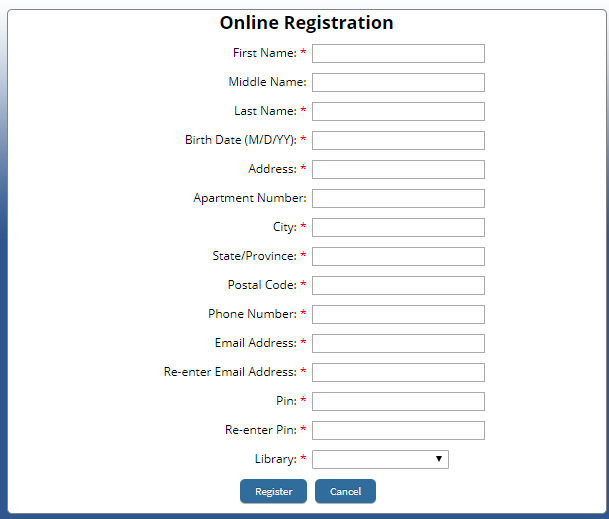 Step 5 – You are now on the confirmation screen and you will receive your login password!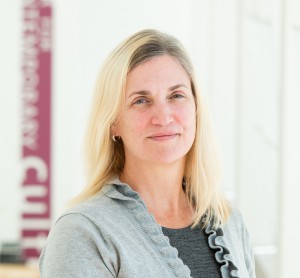 Dear Friends -
Hartford Public Library is working closely with City and State officials in response to the outbreak of COVID19 in our state. We have some service changes and program cancellations to share with you.
Please note that Library hours may continue to change and additional programs may be canceled or postponed in an effort to protect the health of our customers, staff and community. We recognize the need to be mindful of our public spaces, the number of people physically present in them and proximity of people in those spaces.
Service and Program Changes:
For the foreseeable future, we are extending our renewal period to compensate for late returns. Your materials will be automatically renewed up to three times if no one else is waiting; if you have difficulty returning items please give us a call.
Upon consultation with the Hartford Public Schools we will be temporarily suspending public service at the Boundless Library@ Rawson from 3:00 – 6:00 p.m. Tuesday through Thursday.
Hartford Public Library is canceling the following programs and events. We will reschedule as many as possible and publicize new dates as they become available.
ArtWalk
Opening Reception, Erik Williams' Lost in Color – March 13th: 5:30 – 7:30 p.m.
Baby Grand Jazz Series (all 3:00-4:00pm)
·        Iris Ornig Quintet- March 15th
·        Haneef N. Nelson Quintet- March 22nd
·        Ricky Alfonso Group- March 29th
·        Envisage Collective- April 5th
·        The Joe Carter Samba Rio- April 19th
·        TAEKO- April 26th
Mental Health Pre-Screening Day
Saturday March 21st: 1:00-4:00pm
La Colectiva Feminista
Tuesday March 24th: 5:00-7:45pm
Jazz 201
Mondays March 23rd-April 11th: 5:30-7:30pm
Andrea Cruz Concert
Sunday April 5th: 1:30-2:30pm
A series of children's events at the Downtown Library will be cancelled as well.
Read With Gizmo, Saturday, March 21st, April 4th & 18th, 10:30 am
Yoga for Success, Monday, March 23rd 5:30pm
Family Pajama Storytime, Thursday, March 26th 5:30pm
Celebrate Holi Festival of Colors, Thursday, April 9th 4:30 pm
Youth on Youth Bullying Workshop, Tuesday, April 14th 1:00pm
Family Literacy Day (Lego Day), Wednesday, April 15th 10am-2pm
1,000 Books Before Kindergarten Celebration, Thursday, April 23rd 5:30 pm
 We are taking practical steps to help reduce the potential spread of the virus:
Enhancing cleaning measures in all buildings, with particular focus on high-traffic and high-touch areas
Reminding all staff and customers of proper hand hygiene and respiratory etiquette, such as: covering coughs and sneezes with something other than your hand; washing hands frequently with soap and water for at least 20 seconds; and, avoid touching eyes, nose, and mouth. We have added more hand-sanitizer stations in our larger facilities.
Encouraging staff to stay home if they are sick
Libraries are shared public spaces. For the health and safety of others, please be thoughtful about coming into a library if you are not feeling well.
Need something to read or watch? There's a Library at your fingertips:
Check out the Library's many 
online books and media
and
other resources
including e-books and e-audiobooks; streaming TV, movie and music services; online classes; and digital subscriptions to newspapers and magazines.
Bridget Quinn-Carey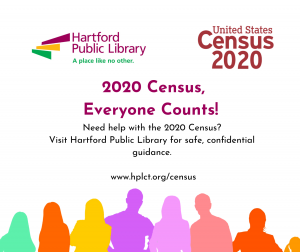 In an effort to encourage full participation in the 2020 Census, Hartford Public Library will expand technology access in all of its neighborhood libraries beginning March 28.
"We knew that as a library, as a place in the community where so many people already come, that we have an obligation as a civic organization to do as much as we possibly can to help people understand the importance of the Census," said Bridget Quinn-Carey, Hartford Public Library's chief executive officer.
If individuals need assistance filling out the 2020 Census, the first in the nation's history to take place primarily online, Hartford's librarians are poised to help. Computer kiosks will be installed at all of the city's libraries for residents to have a dedicated place to take the Census.
"We are in one of the areas of the country that is determined to be hardest to count," said Quinn-Carey, noting a designation made by the Census itself.
In an effort to remedy that concern, HPL will open an additional neighborhood library each weekend from March 28 and ending April 26, giving people a safe and welcoming place to have their questions answered.
Below are the dates, times, and locations.
Saturday, March 28, 10 am-1 pm and Sunday, March 29 1-4 pm, Barbour Library, 261 Barbour Street
Saturday, April 4, 10 am-1 pm and Sunday, April 5 1-4 pm, Dwight Library, 7 New Park Avenue
April 11, 10 am-1 pm, Sand/Ropkins Library, 1750 Main Street
April 18, 10 am-1 pm and April 19, 1-4 pm, Camp Field Library, 30 Campfield Avenue
April 25, 10 am-1 pm, Barbour Library, 261 Barbour Street
April 26, 1-4 pm, Sand/Ropkins Library, 1750 Main Street
Food will be available at each of the locations, as well as a raffle for various prizes.
Quinn-Carey said the stakes for the Census are high.
"If people don't get counted then our community will suffer. We won't have the appropriate funding to support our community. The funding affects our schools, affects our public services. So many funding decisions are made by census information. If we don't count everyone, we are leaving funding on the table in so many different way. We are also impacting our state's representation in Washington," she said.
The Census can be completed online, by paper, or over the phone. For help completing the form, call the Census at 800-923-8282.
"The library has a role because we are a trusted institution that supports our community. We take that mission, as being a seat of civic engagement, to heart," Quinn-Carey said.
For more information about Hartford Public Library, visit hplct.libguides.com/Census
 FAST FACTS ABOUT THE 2020 CENSUS
Drawn from "Counting for Dollars 2020" and "2020 Census Faith Toolkit"
In FY 2016 Connecticut received $10,726,609,427 from federal spending programs guided by the 2010 Census. That money was used to fund schools, health care, highway construction, and student loans among many other areas that touch our daily lives. When people are not counted our community loses out.
The Census determines how many representatives our state will send to Congress and how our congressional districts will be drawn. State and local governments also use Census data to redraw state legislative districts.
Census information is confidential and will not be shared with any other government agency.
The 2020 Census will not have a citizenship question and even if you can't vote you can be counted.
Be sure to count all people who live in your house, not just family members.
The Census will never ask for a Social Security number, bank account number, or to pay money.
From a young age Erik Williams knew he had artistic tendencies. He liked to dance, rap, and draw.
However, purely out of necessity, Williams began shooting photos for local musicians. He and his friends had found that some photographers were expensive and unreliable. Once Williams' photos started showing up on social media, he started getting more attention and gigs shooting fashion and makeup.
"I did one fashion show and I was traumatized," Williams recalled.
For a little while he put his newfound passion aside. Williams didn't want to photograph that which didn't interest him.
"I was sitting around and my camera was starting to pick up dust. I have an urge to shoot but I'm growing. The things I was shooting before weren't appealing to me. I picked up my camera got in my car and started driving around listening to music," Williams recalled.
Hartford, the city he grew up in and spent all his time, spoke to him.
"All of these things just started glowing. It sounds crazy but things just start popping out that I might not have been paying attention to before, like certain conversations I saw, like people waiting at the bus stop, or someone sweeping trash. These started sticking out to me as beauty that we overlook, simple tasks, simple things in life we overlook. There's a lot of beauty if you just slow down and pay attention," Williams said. "I wanted to capture and showcase it through my lens."
HPL partner Real Art Ways took note of his work and amplified it by offering him his first solo exhibition in November 2017, which also led to the article in Take.
Now Williams' black and white street photography, a profound combination of empathy and grit, will be on display at Hartford Public Library's ArtWalk and online. Williams will give an artist talk on HPL's Instagram on Saturday, May 23 at 11:00 am.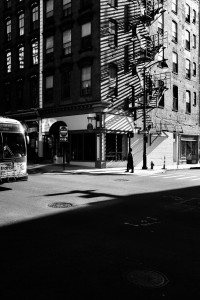 Williams' photography is more than a mode of personal expression and a way to chronicle his home. His work is a part of a worldview that values individual moments and the deeply personal. His camera, in no small sense, is just an excuse to hear people's stories and share his own.
"I have the image in my mind and I pursue it. I let people know what I am doing and why I am doing it. To share their story to show the world their beauty through my lens. My intentions are honest and pure, and I think people can sense that," Williams said.
Some people use a camera to be invisible. Williams, a 36-year-old Bloomfield resident and construction worker by trade, uses the camera specifically not to hide. A couple of times a week, when he feels like it, Williams walks around taking pictures of whatever catches his eye. "Every day I leave it is different. I am not really looking for anything in particular. When I see it, I know," Williams said.
The technical nature of Williams' artistic process makes deep personal engagement a necessity. He works with a fixed lens, meaning there is no way for him to zoom in on anyone. If Williams does a portrait, he is only a foot or two away from his subject.  "I want to get into your space because I am interested in getting to know you and hearing your story," Williams said. "You are beautiful as you are and I recognize it and I want to tell you personally."
Williams believes that his art – which includes at some level his personal interactions – help to create change. He's seen people's reaction, their smiles. He knows that people feel he is trying to represent Hartford as he sees it – a vibrant place.
"When I am able to talk to people I am changing people's perspectives, helping people to be less judgmental, more appreciative, more understanding, Williams said.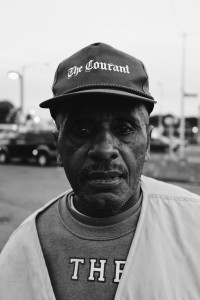 For example, one of William's portraits is of an older man wearing a dark colored Hartford Courant cap. The man is serious, but there is something gentle in his gaze.
"That's James. He sells the Courant off Albany Avenue. He has glaucoma. He's someone you would pass a thousand times driving past on Albany Avenue. But I see him out there in rain, sleet and snow selling that paper out there for years and I see beauty in that. I respect his commitment," Williams said.
Williams is a careful man. He's not caught up in the social media hustle. He takes his time and gives his full attention, whether it's something simple like washing his clothes or cooking dinner or, something really difficult, like looking at the world.
"Maybe that can fix something in you," said Williams, as he looked from the windows of the ArtWalk onto Main Street.
— by Steven Scarpa, Manager of Communications and Public Relations