Recently HPL was the receiver of three different grants that totaled an extraordinary amount of $50,000! Wow! Thank you to The Connecticut Department of Education, the New Alliance Foundation, and Wells Fargo. These three grants will support critical free programs the Library provides to Hartford adults, children, and families.
Here is a breakdown on each of the grants:
The Connecticut Department of Education-Bureau of Health/Nutrition, Family Services, and Adult Education awarded HPL funding in the amount of $35,000. That money will fund a 2015 Adult Education Program Improvement Project supporting English language learning and civic participation for low-literate immigrant populations. One of the greatest achievements of HPL is how many immigrants and refugees that we are able to help. We offer numerous classes to help children and adults to get acquainted to living in an American neighborhood and this fund helps us to continue to do that.
Wells Fargo gave HPL $10,000 that will go towards funding for a YOUmedia Core Programming Initiative (YCPI). This is a program that will essentially allow us to do critical research on our brand new, teens only, digital learning lab, YOUmedia. Being the first in Connecticut, and only the third in the whole country, it is critical to do research on this facility. YCPI will develop a programming model, acting as a test for the center's first year of activity. This "test" will see how students are engaging inside it, how they are learning, etc. All of this will be done through marketing, program testing, and a pilot program.
The New Alliance Foundation awarded the Library $5,000 to support WordPlay Storytimes, an innovative program to help English Language Learners ages 2-5 and their parents/caregivers across all ten locations of the Hartford Public Library. This program will help to acclimatize immigrant and refugee children to a new cultural environment by utilizing common themes of letters, numbers, colors, shapes, and feelings, as well as well-known folktales that build cultural literacy and comfort.
Thank you to all three of our donors for these outstanding grants! With their help we can continue to be a place like no other!
By Christi Jensen, Communications Intern
Did you notice this past Friday that Arch Street was closed down for the morning? Did you hear HPL mentioned on the news that day? Or maybe some of you knew that the library was given two large Romare Bearden murals. Either way, we are so excited to have such beautiful paintings in our building. Friday morning we shut down the Library to move in the two massive murals through a bank of windows on the Arch Street side of the Library. The media, employees of the library, and others watched in awe as Mariano Brothers delicately moved the murals inside the windows and onto their new homes; the walls of HPL! It was a process that will never be forgotten at the Library, but we are proud of how smoothly the move went and how great they look in the space.
Romare Bearden (1911 – 1988) was a Harlem Renaissance painter who was described by the New York Times as, "the nation's foremost collagist". His art was inspired by the unity and cooperation within the African-American community and the importance of an artist in the struggle for civil rights. Both paintings that are now in the Library are collages with two different themes. The mural looking over the computers in the Job and Career Center being sports and the one above the Atrium is a music and art theme. Both are so vibrant and colorful, the light beaming in through all the windows highlights them perfectly.
We find that the paintings fit perfectly in our space for a few reasons. The walls that both of the paintings are hanging on were so large and empty before Bearden's work livened them up. Now that they are there it's hard to believe we never had any artwork on those walls before. Bearden's work and what it symbolizes is fitting for the community of Hartford and the Library. In a city of so much diversity, it seems fitting to have the work of a Harlem Renaissance painter hanging in a public space for all to see.
We are happy to welcome all to come and see the new addition to the library at any time the library is open. You can read more about the details of the move and more about the murals specifically here.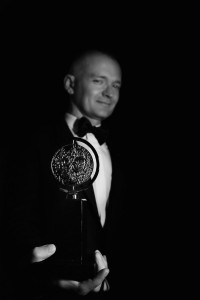 Spend a special evening at HPL with Hartford Stage's Tony Award-winning Director Darko Tresnjak!
As a key event in the Hartford Public Library's  One Book/One Hartford annual series of programs this fall, Tresnjak, together with Hartford Public Library CEO Matthew K. Poland,  will lead a lively discussion of Art Spiegelman's powerful graphic novel, In the Shadow of No Towers,  and how well the format of the graphic novel works in the telling of this story about the events of 9/11. The 6 p.m. event scheduled for Thursday, October 23, in the Atrium of the Downtown Library, is free and open to all.
Recognizing the boundary-bending nature of the graphic novel, Hartford Public Library is bringing emphasis and attention to the genre for this year's One Book/One Hartford.
"The graphic novel has become an extremely important part of America's book culture," said Poland. "As part of our One Book/One Hartford programming for this year, we wanted to both build on American Library Association support for the graphic novel, and create a program that would allow us to examine a major national and international event through Darko Tresnjak's eyes. He is a citizen of the world, and brings that perspective to the discussion, but is also deeply involved in the world and culture of Hartford as artistic director at Hartford Stage."
Darko Tresnjak has been the artistic director of the Hartford Stage Company since 2011, and earlier this year won a Tony Award for his direction of A Gentleman's Guide to Love and Murder, currently on Broadway. He grew up in Yugoslavia, Poland, and the United States, and previously served as artistic director at the Old Globe Shakespeare Festival in San Diego.
"I was intrigued from the moment I heard the title of Art Spiegelman's book because in September 2001, I lived in the West Village, literally in the shadow of the towers. I look forward to talking about this book,"  said Tresnjak.
Pulitzer Prize-winner Spiegelman's large-format illustrated novel was published in 2004 by Pantheon Books, and was described by Salon as a "dark, troubling and sometimes hilarious comic" that may be "the finest and most personal work of art to emerge from the tragedy."  The New York Times praised it as "an intimate memoir of the attacks on the World Trade Center." No stranger to controversial topics, Spiegelman won the Pulitzer Prize in 1992 for his book Maus, the story of his family and the Holocaust told through the medium of a comic book.
Image via Broadway World
It's true: everyone is so busy, running from work to home to school to after-school activities and beyond.  When is there a chance for us to take the time to honor and celebrate our family and friendships or share our wonderful cultures and traditions with others?
A new Multicultural Neighborhood Place might provide just the answer, thanks to an initiative by the Asylum Hill Neighborhood Association (AHNA) and Hartford Public Library.   To launch this new venture, on Tuesday evening, September 16, 2014, over 50 Asylum Hill residents gathered at the Lincoln Technical Institute for dinner and brainstorming about what they envision taking place at the Neighborhood Place.  The international diversity of Hartford's population was well represented with attendees from the Ivory Coast, Ghana, Togo, Cameroon, Nigeria, Peru, Ethiopia, Burma, Thailand, Bhutan, Nepal, and Albania, as well as the United States.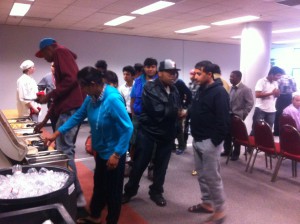 After self-introductions all around, co-facilitators Linda Bayer and Jim Boucher gave an overview of the project, including slides of urban and suburban neighborhood centers in other parts of the country, and then they opened the floor to discussion.  After all, as the co-facilitators emphasized to the group, "It is your work that will make this happen."   To that end, during September, October, and November, Asylum Hill residents have the opportunity to participate in one of five focus groups to tease out the why's, how's, and where's of establishing a neighborhood place. To ease communication, the groups are divided into age and language groups:  youth, Arabic and Middle Eastern languages, Bhutanese and Nepalese, African languages, and Karen.  The series will culminate in a report and celebration over dinner in mid-November, as the various groups come together and share their ideas and visions of a neighborhood place open to all residents.
Yet even at this preliminary meeting, the enthusiasm was evident as participants generated a long list of possible uses for this communal gathering place.  There was no shortage of ideas as people suggested a helping center for homework, a location for the elderly to congregate, a kitchen, a place for studying, sports, cultural and arts events, dance classes, employment services, English and computer classes, community theater, and a place to relax.
There was also discussion of the steps involved to make the center successful and sustainable, such as who are the stakeholders, what is the mission statement, will there be by-laws, how will the center be financed and supported, who will run and administer it, and so on.  All of these questions will be answered as the process unfolds.  For now the journey has just begun.
If you are interested in joining one of the focus groups or helping to make this neighborhood place a reality, please call 860-695-6316 or email: ncaddigan@hplct.org.
By Judy Wyman Kelly
Every parent wants their child to succeed, and one of the simplest ways you can ensure your child's academic success is by making a quick trip to the library. September is Library Card Sign-up Month, a time when Hartford Public Library (HPL) joins with the American Library Association and public libraries nationwide to make sure that every student has the most important school supply of all – a free library card.
With a library card, students can turn to the library for educational materials not found in schools, use computers, receive help with research, and utilize programs and services that support academic achievement.  In the past year, HPL provided more than 38,000 computer sessions to Hartford students.
In addition to in-person resources, a Hartford Public Library card offers access to important online educational and research opportunities, including a full catalog of ebooks, magazine, journal and newspaper articles, Worldcrunch global newspaper database, music, movies, and more.
"Our library provides a safe and welcoming atmosphere where students young and old can explore, discover and create," says Matt Poland, Hartford Public Library CEO. "Students learn in a variety of ways, and thanks to the resources available at the library we can meet the needs of all ages and types of learners. Whether through homework help, STEAM (Science, Technology, Engineering, Arts, and Math) programs or access print and e-books, the library has something for everyone – all free with a library card. That's why a library card is the most important school supply of all."
New library card applicants of all ages may sign up at any HPL location with a valid state photo identification card (students may use their school IDs) and proof of address, and parents can even register younger children for their own card. Residents living outside Hartford may also sign up for a Hartford Public Library card by bringing in their hometown library card, and enjoy many of the free resources available at the city branches.
Every new card applicant this month will receive a discount to The Kitchen at Hartford Public Library – 10% off  some of the best food in the city!
For more information on how to sign up for a library card, visit the any Hartford Public Library location in person or visit the library online at hplct.org.
By Judy Wyman Kelly
Have you ever considered serving on a city commission? Eleven Hartford area residents have and on July 7 they were enthusiastically welcomed by Councilman Larry Deutsch to the newly-created Commission on Refugee and Immigrant Affairs. These 11 nominees had already submitted an application and been vetted by the Mayor.  Once approved by the Subcommittee on Health and Human Services and then the City Council, the Commissioners will meet monthly to discuss and act upon matters of concern to refugees and immigrants in the Hartford area and beyond.
The nominees assembled first at the Hartford Public Library where Linda Bayer, Office of the Mayor, gave a short briefing on what to expect.  She reassured them that the process was informal– they might be asked a few things about themselves and why they were interested in serving on the Commission.  After a few questions such as, "What happens next?" "How often does the Commission meet?" etc., we all walked across the street to City Hall.
I am always dazzled by the majesty of Hartford City Hall.  Built in 1914 on land donated by Hartford resident and financier J.P. Morgan, the building is adorned with gilded décor and vaulted glass ceilings, as well as a beautiful centrally located marble stairway.  One cannot help but feel both inspired and humbled by the grandeur of the architecture and interior design.
We made our way to the Council Chambers on the 2nd floor where the subcommittee meeting was just beginning.  The nominees filed in and were offered seats in the row of wooden chairs facing the council members.  Chair Deutsch warmly welcomed everyone, took care of a few small business matters, and then opened the floor to the nominees.
Each person was invited to say a few words about themselves and their reasons for joining the Commission.  Michael Akapan of Nigeria has lived in the U.S. for more than 20 years yet remembers well when he first arrived as an immigrant:  "By serving on the Commission I hope to help other immigrants and refugees, and to solve problems in humanitarian ways.  There are a lot of challenges and we brace ourselves to make significant marks during the periods of our contribution to the Commission." Padam Bharati of Bhutan was resettled in Hartford in 2009, along with 35 other families.  He recently passed his U.S. citizenship test and is studying to become a nurse.  Bharati hopes to "serve according to the needs of refugees."
Indira Petoskey of St. Lucia is assistant dean in the School of Continuing Education at Eastern Connecticut State University.  An immigrant herself and adviser for many international students, Petoskey has a "major interest in working with immigrants and refugees."  Estela Morales of Mexico "knows how it feels to come to a new country."  Balam Soto of Guatemala hopes to "build a bridge for immigrants in the city," and Georges Annan Kingsley of Côte d'Ivoire wishes to "take positive actions in the lives of immigrants and refugees."  Mui Mui Hin-McCormick, formerly of Laos and current Executive Director of the Connecticut Asian Pacific American Affairs Commission, wants to "make sure that the Asian community is not forgotten."
Joseph Morris Kalapele, a refugee from Liberia, has lived in Connecticut for ten years.   As a lack of support and information upon arrival in Hartford proved challenging for Kalapele, he hopes to share his experiences with the Commission in order to help other immigrants and refugees.  After much hard work, Kalapele earned a master's degree from Central Connecticut State University.  Anne Dombrofski, who has worked with immigrant communities abroad and in the U.S. for decades, hopes to "bring about a community in which we can recognize the richness of our ethnic heritage and the contributions of all immigrants and refugees among us."  Letticia Cotto, born and raised in Hartford, "looks to make Hartford a more welcoming city."
Several of the nominees attested to the important role that the Hartford Public Library played in facilitating their adjustment to the United States.  Kingsley described how the library helped him when he first arrived, and Elizabeth Cuentas of Peru credited the library for helping her become a citizen last year after 20 years in the U.S.  Chair Deutsch described the library as "being immensely helpful" in getting the new Commission up and running.
Once the nominees were voted in, Chair Deutsch jumped right into business urging the newly-appointed Commissioners to draft a resolution for the City Council addressing the humanitarian issue of undocumented children at the U.S. border with Mexico.  Immediately upon leaving the meeting, several Commissioners chatted in the hallway about next steps—a conversation that was followed by many email exchanges.
By the following Monday, a resolution had been passed by the City Council urging Hartford "to play a role in alleviating these oppressive conditions affecting children through influencing federal immigration policy with letters to the Administration AND through offers to receive those children who may be permitted to remain in this country." The "small United Nations," as Chair Deutsch referred to the members of the Commission, was already hard at work!  Commission member Dombrofski remarked, "I left Monday's meeting feeling hopeful and energized, by all of you and members of the Council.  I am looking forward to working together!"
On a recent lovely summer evening, I made my way to the 19th floor of a Hartford skyscraper for a very special reception honoring some of the city's most hard-working volunteers.   Generously hosted by the law firm Shipman & Goodwin, the locale offered a panoramic view of downtown Hartford, the majestic Connecticut River, and the state's many rolling hills off in the distance. It was a view "one doesn't get to see very often," exclaimed one of the guests.
I had come to support and thank the newly-appointed members of the Hartford Commission on Refugee and Immigrant Affairs (CRIA).  With backing from the Hartford Public Library, the Hartford City Council, and the Mayor, the 21-person Commission will help refugees and immigrants engage in civic life, provide a forum for their ideas and concerns, and facilitate entry to the city for all new arrivals.
Dining on delicious appetizers and sipping refreshing cocktails, members of the various boards and commissions chatted and shared stories.  Dr. Rebecca Thomas of the University of Connecticut School of Social Work and an immigrant from India, shared some of her reasons for joining the Commission, "I have benefited from an education, interaction and engagement with my adopted country, and I would like to share some practical insights to a policy body that can effect change and work with the members of the Commission to best meet the needs of immigrants and the host communities."
Rio Comaduran, born and raised in the U.S., said she "hopes to continue to bring immigrant and refugee issues to the forefront, ultimately affecting policy shifts and changes at the city level, and at the same time encouraging civic engagement and social capital building amongst immigrants.  And as a proud Hartford resident and grand-daughter of Mexican immigrants, there's really nothing better! "
Mayor Pedro Segarra thanked all of the volunteers and commissioners for their service, spending some time with the new CRIA members—American citizens Thomas, Comaduran, and Eva Jacobson, as well as Georges Kingsley Anan, a recent immigrant from Cote d'Ivoire, Dean Rhoden of Jamaica, and Balam Soto of Guatemala.  Mayor Segarra commented, "Hartford has always been a city of immigrants – from its founding to the present day. I am so excited about the new Commission.  We can help our new arrivals with their dreams and aspirations and they will contribute to the health and vibrancy of our city."
Judy Wyman Kelly is a consultant for the Hartford Public Library's The American Place, a center for immigration and citizenship, and a lecturer at the University of Hartford.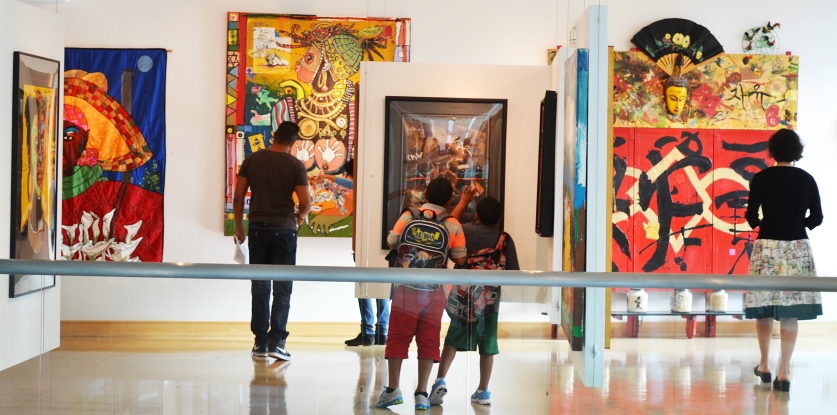 Calling All Artists!
ArtWalk at HPL offers one of the largest and most stunning exhibition spaces in Hartford, and we're looking for artists to showcase in the 2015 ArtWalk series! Located on the 3rd floor of the Downtown Library in a space that looks down onto historic Main Street, the gallery offers unique visibility and exposure, adding to the increasing vibrancy of Downtown Hartford. The ArtWalk hanging system's movable panels allow maximum flexibility for each show.
The stunning state-of-the-art gallery was made possible through the generosity of donors, especially the Beatrice Fox Auerbach Foundation at Hartford Foundation for Public Giving.
Seeking Submissions:
The ArtWalk puts on four exhibitions each year. Artists are invited to submit a body of work to be considered for the following year's exhibitions between August 1st and October 1st. From these submissions, the four shows for the following year are chosen.
Eligibility:
Artists living and/or working in the Greater Hartford area will be given priority. Students, emerging, or established artists are all eligible. Artists must have a body of work sufficient for exhibition on the ArtWalk by the date of the exhibition. Artists working in all media are encouraged to apply.
Jury:
A jury will select up to four artists with final approval from the Library. Criteria for selection include but are not limited to:  1) an artist's resume or vitae and demonstrated ability, 2) an appropriate body of work that is compatible with the ArtWalk space, and 3) the ability to provide sufficient work ready for installation by an agreed-upon date.
Installations designed specifically for ArtWalk are encouraged. The jury will also consider the economic and physical feasibility of the proposed exhibitions. The jury may also recommend group exhibitions.
Selected Artists:
The selected artist(s) will generally receive a solo exhibition (although the Library reserves the right to create exhibitions for multiple artists simultaneously), supporting marketing, an opening night reception, and an opportunity to present an artist talk to the public during the exhibition.
Submissions:
1) Documentation of Work – Up to six images of recent, current work or the work specifically being proposed for the exhibition on the ArtWalk on a clearly labeled CD-ROM/USB drive – jpegs only. (Physical work – slides, photographs, will not be considered. All work must be submitted digitally)
2) Include title, dimensions and medium for each image submitted
3) Up to three minutes of new media work will be viewed by jurors (clearly mark and cue the segment to be viewed)
4) A current resume with contact information including address, phone number and e-mail
5) A brief artist's statement
6) Description and scope of proposed exhibition
If you would like your submission returned to you, please include with your application a self-addressed stamped envelope sufficient to return material. Otherwise materials will not be returned.
Deadline:
Materials must be postmarked no later than October 1st.
Send to:
Andrea Figueroa
Executive Assistant
Hartford Public Library
500 Main Street
Hartford, CT 06103
Artist(s) selected by the jury will be notified by phone and email no later than October 31st.
Good luck!
By Jyotsna Khattri-Chettri |  Photography credit: Tikeyah Whittle, CPBN Media Lab
I adjusted the microphone and looked up at more than 80 sets of eyes looking at me very patiently. For a moment, I lost my voice and all my poise and cool. Just for a moment. It was a night of storytelling and friendship and with that thought calming my mind, I went ahead to introduce the first speaker Berhanu from Ethiopia. All the speakers told their stories in their native languages and they had narrators, from AHNA's receiving community, who read translations of their stories in English.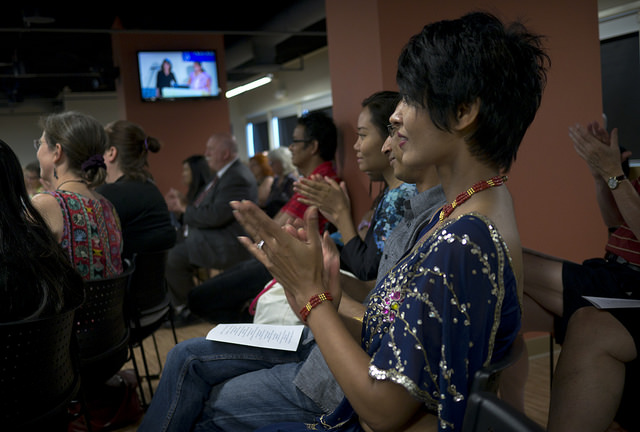 Mark Twain said, "Truth is stranger than fiction, but it is because Fiction is obliged to stick to possibilities; Truth isn't." Berhanu's story is one of those that lends Twain's words a whole lot of credibility. Berhanu spoke in Amharic and told a story of a journey so long and complex all the way from Ethiopia to South Africa before finally making it to the United States almost 20 years later. As the tales continued, the audience would find the truth of Twain's words proven again and again.
Nayomi filled the room with warm laughter when she talked about her amazement at the fact that Americans had such huge refrigerators. Nayomi, who comes from the small island country of Sri Lanka was used to compact, economical fridges. She found the typical American fridge to be more shocking than the six lane highways or huge New York city skyscrapers.
As the speakers wove their stories in beautiful foreign tongues, I looked around the room and felt people loosening up, getting more and more comfortable with these exotic foreigners telling their tales. People in the audience began to realize that while the stories were being told in a foreign tongue that was really the only thing that made them foreign. People could relate to the stories, empathize with them, and perhaps even shake their heads in absolute agreement.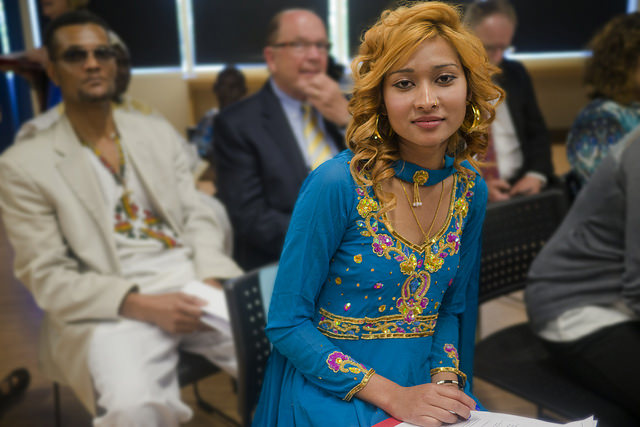 The power of storytelling was beginning to get a hold of the room as strangers settled in to listen to these interesting, tough, resilient, phenomenal people who the audience felt they knew a little more intimately as they shared their most personal thoughts and experiences.
There were a total of seven speakers with two youths from the Journalism and Media Academy. In addition to Berhanu and Nayomi, there was Marcos from Peru who told a very loving and admiring story of the struggles his wife, Lar Pwe Paw, a Karen refugee went through before coming to the United States.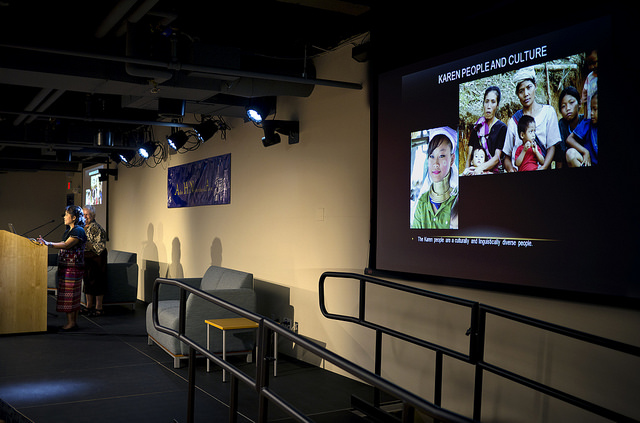 Roselin also told her story of being a Karen refugee in Thailand. She shared her innermost fears and her struggles. The audience went on an emotional roller coaster ride as stories switched from unimaginably painful to absolute hilarity. Seventeen year old Deborah told of her difficulty in what should be a most simple matter – sharing an informal greeting. She learned the hard way that Americans don't greet each others as Haitians do, with one or two kisses on the cheeks when she spent a few good minutes with her lips puckered up attempting to warmly greet her new American neighbor and schoolmate.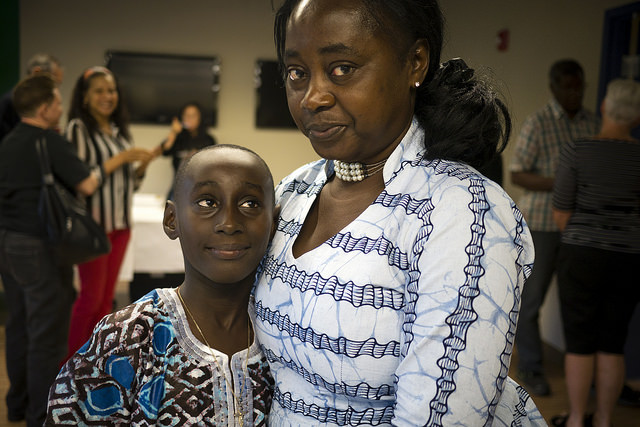 We held the storytelling event on June 20th to commemorate World Refugee Day, and I cannot think of a better way to have observed the day than to hear from the refugees and immigrants themselves who make our neighborhoods such vibrant, lively places in which to live and work.  There were stories from Ethiopia, Burma, Nepal, Haiti, Sri-Lanka, Cote D'Ivoire and Peru.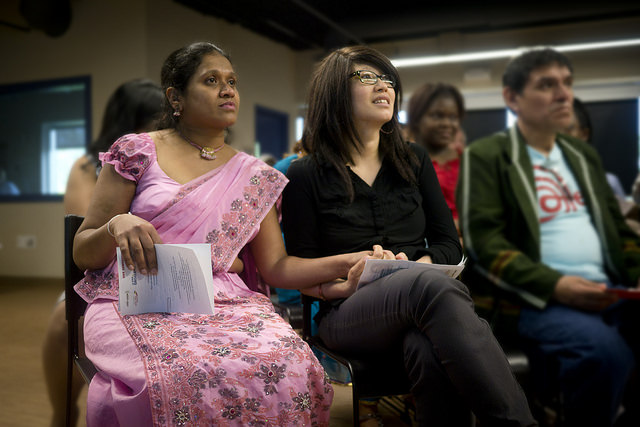 The diversity of Asylum Hill was well reflected in the diversity of the speakers. The event came to a close, with an action packed tale of trials and triumphs by Georges Annan Kingsley of Cote D'Ivoire, who,  while suffering from kidney failure, had to be smuggled into Ghana to receive urgent medical treatment. His story had a very happy ending as his wife and son joined him in the United States just a few day prior to the event. As he introduced them on stage, the whole room stood up and burst into applause. I did catch more than a few people wiping away tears that betrayed their very best efforts to keep them from falling.
Jyotsna Khattri-Chettri is from Nepal and moved to Connecticut in 2003. She has completed a  Bachelors in Political Science from the University of Connecticut and is currently pursuing a Masters in International Studies from CCSU. She also serves in the Connecticut Army National Guard as a Broadcast Journalist.

The start of summer may be a highly-anticipated break for all kids, but research shows that low-income students that do not continue educational programming during the summer suffer greater achievement losses, gain more weight, and become less likely to graduate high school than their more affluent peers. In order to fill this critical learning gap, Hartford Public Library's Summer Learning Program encourages reading and enrichment throughout the hotter months with a citywide educational events, activities, and prizes. To celebrate the start of the 2014 Summer Learning @ HPL Program, the public is invited to attend an outdoor kickoff festival on Saturday, June 7 from 1 – 4 p.m. at the Library's Downtown location!
The festival will incorporate the theme of this year's Summer Learning Program, "Fizz Boom READ!" with science activities, crafts, games, and a special 3:00 p.m. Mad Science show. A bounce house, giant slide, face painting, airbrush tattoos, snacks, music and more will be free for all. Last year's kick-off broke attendance records with 900 kids and families having a blast! The festival will stretch from the Downtown Library at 500 Main Street to the Burr Mall, and free transportation will be available throughout the city via buses that will run between Library branches and Downtown Hartford.
In addition to the festival fun, attendees will have the opportunity to learn about and register for the Summer Learning Program and how to win prizes for reaching summer reading goals. Designed to maintain yearlong learning in an attempt to reduce summer learning loss in students of all ages, students move directly from school-year activities into Summer Learning @ HPL so that the "learning ball" is never dropped, and parents with limited skills or access do not need to actively pursue educational opportunities in order for their children to achieve success.  Program participants are challenged to read daily and log their participation in order to win prizes.  Hartford Public Library's Summer Learning Program has seen huge success in recent years – participation increased from 300 students in 2011 to over 6,500 students in 2013.
This year, in partnership with Mega Education, a series of 10 Summer Learning registration ice cream parties will be held throughout the summer, where two lucky registered participants at each Library branch will win brand new Android tablets!
Mega Registration parties are held from 2:30 p.m. – 3:30 p.m. at the following locations:
Tuesday, June 24 – Mark Twain Branch, 55 Forest Street
Friday, June 26 – Barbour Branch, 259 Barbour Street
Thursday, July 3 – Blue Hills Branch, 649 Blue Hills Avenue
Tuesday, July 8    Ropkins Branch, 1750 Main Street
Tuesday, July 15 – Camp Field Branch, 30 Campfield Avenue
Friday, July 18 – Albany Branch, 1250 Albany Avenue
Tuesday, July 22 – Downtown Library, 500 Main Street
Wednesday, July 30 – Park Branch, 744 Park Street
Thursday, July 31 – Dwight Branch, 7 New Park Avenue
Friday, August 8  – Goodwin Branch, 460 New Britain Avenue
Registration for the Summer Learning program can also be completed at the June 7 kickoff, or online at www.hplct.org by clicking on the summer sun.
Library Offers Adult Summer Reading Events!
Hartford Public Library's summer programs and prizes are not just for the school-aged! Adult readers are invited to participate in Library Book Club summer discussions:
Thursday, June 19, 12:30 p.m. – Book Talk with James Rouman, author of Uncertain Journey
Thursday, July 17 – Book Club Discussion – Delicious! A Novel by Ruth Reichl
Thursday, August 21 – Book Club Discussion – Aya of Yop City by Marguerite Abouet
Registered participants are eligible to win prizes at each event! Adult readers may register for the Summer Reading Program online at www.hplct.org or at any Library branch.