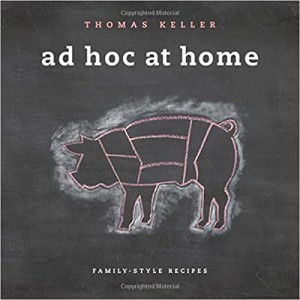 Buttermilk Fried Chicken
From Ad Hoc at Home
by Thomas Keller
TX715 .K29 2009
By Julie Styles, Manager of Public Services, Central Branch
The world is bonkers right now. Everything has been disrupted in one way or another, and we all have our different ways of coping. Some of us are writing our first novel, some are spending hours making masks for their communities, some are relishing the extra time with their loved ones, some have started growing their own vegetables. I'm making fried chicken.
I don't think it's possible for any meat eater to not love fried chicken. I think the vegetarians love it to, they just might not realize it. The health nuts love it, too. They just won't admit it. They say it's "bad" for you. But how can pure joy and happiness ever be bad? Fried chicken is everything most of us have been told is unhealthy: it's on the bone, it's got skin, it's breaded, it's deep fried! The horror! But even if you believe all of that, it's still worth it. Hassle, extra calories, giant mess, and painstaking process included, it's still worth it. At least once in a while.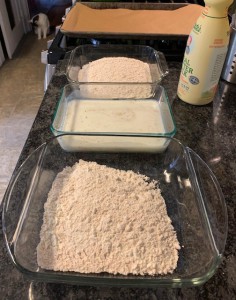 While the fast-food fried chicken sandwich debate rages out in the world, I am staying home a lot, so I decided to make homemade fried chicken. This pandemic has given me the time, the patience, and the right to do whatever I darn well please in my own kitchen. There's no one here to judge me, and no one to disappoint if I fail miserably. (Well, there's the husband, but he's stuck with me for a while.)
The way I see it, if you're going to make one of the most iconic and beloved staples of American food, you'd better find an expert to tell you how to do it. My pick is a controversial one: Thomas Keller. This choice isn't scandalous because he isn't a good enough cook. The issue is that he's the most highbrow of all the brows. He's King of uber-fancy restaurants, namely The French Laundry and Per Se, among others. His menus offer things topped with caviar and truffles, he gets his onions from Wales, and he spells it "boeuf." A meal at one of these spots lasts hours and costs more than a luxury car payment.
But he's got a down-home side too, which comes in handy in times like these, and he's even published a cookbook highlighting it: Ad Hoc at Home. It's named after a more casual restaurant he runs, and includes recipes like chocolate chip cookies, clam chowder, and yes, buttermilk fried chicken.
Don't worry, he doesn't try to jazz it up or use some goofy technique. It's straightforward: brine chicken, bread chicken, fry chicken. Every ingredient is a common pantry staple; the least accessible item in the recipe is probably the "splatter screen."
The first step in the recipe is to take a whole chicken and cut it up into 10 pieces. Let me stop you right there. Unless you are well-skilled in fowl butchery, leave this to the experts at the meat counter. You can even buy pre-cut packaged chicken, and if your favorite store has a butcher, by all means use them, and ask to have a whole chicken broken down for you. If you do decide to take on the bird yourself, be sure your knives are truly sharp. This is not the time to risk a trip to the hospital.
The chicken hangs out in a brine for "12 hours…no longer," and the brine needs to be boiled, then chilled before you can use it, so be sure to do some planning before getting started. We made the brine first thing in the morning (which for us was around 9:30), then tucked the chicken pieces into it around noon. If you want to get the full 12 hours of brining, I suggest making the brine the night before, then getting up ridiculously early to get the chicken in. The next step freaked us out a bit, but we went for it: after taking the chicken out of the brine, you rinse it, pat it dry, and let it sit on the counter for an hour and a half. While this goes against everything we ever learned about food safety (and with almost 20 years of restaurant experience between us, we learned a lot), we trusted King Keller, and lived to tell the tale.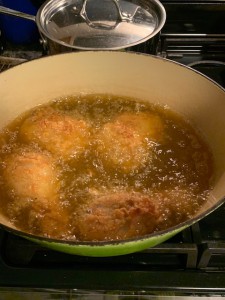 Alright already, let's fry. The process for frying the chicken is pretty standard: you set up a little station of shallow dishes, the first with a flour and seasoning mixture, buttermilk and seasoning in the second, and more of the flour mix in the third. The double-flour business is the key to super crispy, shatter-y fried chicken. And seasoning each step ensures that your chicken won't taste like it's covered in shredded cardboard and grease. Keller's recipe is well written; it outlines each step in the process, which takes a bit of coordination. Be sure to read through it all before you begin—you'll thank me later. If you've never fried your proteins before, invest in a meat thermometer. You really need to be aware of the oil temperature (which will fluctuate) throughout the process, and later you'll need to check the chicken's internal temperature. Overcooked chicken is dry and disappointing, undercooked chicken is gross and can be deadly.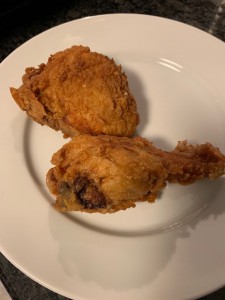 While a few of our pieces were slightly overdone, for the most part it came out heavenly. The chicken was juicy and flavorful, and so crispy and craggy it looked like it had been covered in corn flakes. The husband made some incredible slow-cooked green beans to go with it, but any sides will be great–the chicken will overshadow it all anyway. So, go forth, and make yourself some fried chicken. And make a lot. It's just as amazing the next day, reheated in a 400-degree oven for 15 minutes, or eaten cold straight out of the fridge.
Until you can get this amazing, and approachable, cookbook from the library, head over to the D'Artagnan website, where they provide the recipe, and will also try to sell you a fancy, really expensive chicken.
– 30 –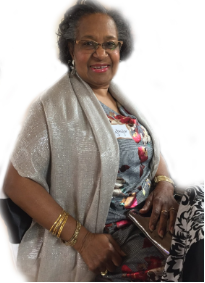 Fay Taylor took a short vacation to the Poconos with her husband Charles back in 1989. It was going to be restful – just a few days away from her home in Windsor. On her second day, Fay went out horseback riding and suffered a fall.
She broke her back, damaging her spinal cord.
"Doctors weren't sure I would walk again," she said.
Not only would Taylor recover, she would go on to write a 2008 memoir called "Steel" about her efforts to regain her health. "I wanted to show triumph over adversity," Taylor said.
Taylor, 73, recently did a virtual author talk for Hartford Public Library.
Taylor kept a journal during her arduous recovery period, a time when she had to learn how to walk all over again. "I did it to pass the time," she said.
What started as a distraction ended up a necessity. Taylor found that writing down her story was helping her to heal in ways she didn't expect. While Taylor had done some stories for local newspapers, she had not published a long work at the time of her injury.
"Steel" was born of pain, but Taylor believed it was important to tell her tale, to talk about the love and unconditional support she got from her family.
Taylor isn't 100 percent healthy. She never will be. But she doesn't dwell on her injury or let it color her as a person. As she said, accidents happen to people all the time – Fay just happened to be one of them."A lot of people say that it is because of my attitude, that I am a happy, laughing person. That helped me to heal," Taylor said.
By Steven Scarpa, Manager, Communications and Public Relations
– 30 -
Children's Book Week is not only a celebration of books, but of connection. It's a great way to unite kids and adults with books, authors, and illustrators in order to foster a love of reading.
This week HPL's children's librarians share some of their favorite books, all available with a library card at hplct.org.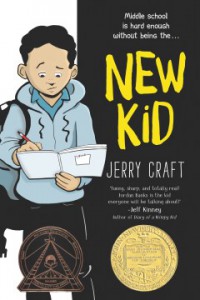 Jordan Banks is a seventh grader dreams of going to an art school. Instead, his parents enroll him in a highly prestigious private school that is predominantly white. Author Jerry Craft brilliantly portrays Jordan's adjustments to his new school as he finds himself in quite a conflicting predicament. He is not only the new kid but also among the very few students of color in the entire school. He struggles to adapt and fit-in, in an environment where the teachers only know the names of their white students. Salient issues like racism and microaggression are raised throughout this well-rounded graphic novel.
By Miss Lina, Downtown Library
__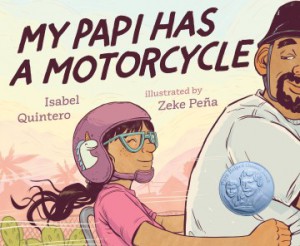 My Papi Has a Motorcycle by Isabel Quintero and Illustrated by Zeke Peña
This picture book takes you on a journey with the narrator and her father as they go on a motorcycle ride together. The love between father and daughter blooms on each page with the beautiful descriptions and illustrations.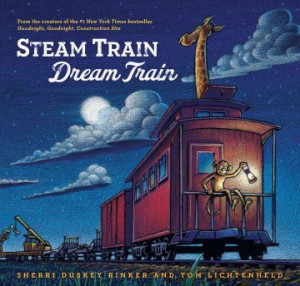 Steam Train, Dream Train by Sharri Duskey Rinker and Illustrated by Tom Lichtenheld
A wonderful bedtime story with animals and a train going from bustling to slowly calming down for the night.
By Miss Katryna from the Albany Library
__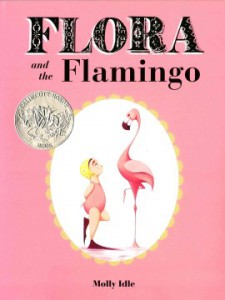 Flora and the Flamingo (A wordless Picture Book) by Molly Idle- Author & illustrator
Age Range:3-6 years
Molly Idle's talent shines in this 2014 Caldecott winner. The story of a girl in pink bathing suit and her pink Flamingo friend is told through their harmonized and graceful movements. The lift-flaps feature allows transformation of pictures. The ups and downs of the friendship theme are captured effectively in shades of pink with the tiniest hints of brown and yellow with eye-catching illustrations. The absence of text is well compensated by the vibrancy and fluidity of the illustrated narrative. Great visual literacy format to prompt children's own story interpretations.
By Miss Rubina, Dwight Library
__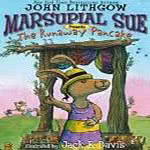 Marsupial Sue and the Runaway Pancake written and read by John Lithgow
Anyone who has been to my story times know I LOVE silly stories! Very much like the classic story of the Gingerbread Man, The Runaway Pancake pops out of an oven and boastfully runs through the town yelling at anyone who tries to eat him, "I'm too fast, you're too slow. Pan, pan, patty-cake pan, I can get away from you, I can!" Even better, in this Tumble books version, the actor John Lithgow brilliantly narrates his story, character voices and all!
By Miss Sara, Rawson Branch
___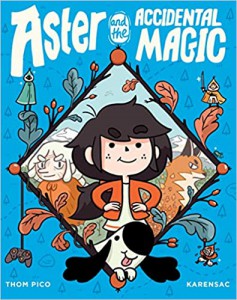 Aster and the Accidental Magic   By: Thom Pico
Aster's mother's job requires her family move to a new home which Aster finds odd and very boring right from the beginning.  Instead of having her spend all her time moping and playing video games her father encourages her out to go out and explore the great outdoors.  Aster soon discovers her new mountainous home contains unexpected surprises such as a Trickster named Rapscallion, who eagerly grants her three wishes, an old lady with mysterious powers, and the fierce warriors the Chestnut Knights.  This book has two stories in one and was a playful read with fun illustrations.  What added to the fun was also discovering some hidden easter eggs from popular shows such as Gravity Falls and Adventure Time.  
By Miss Johana from Downtown Library 
– 30 –
Work on the foundations and footings for the new Park Library, located on Park Street, will begin next week.
That project will take about six weeks, said Mark Parrino, HPL's Director of Facilities Operations.
Once the foundations and footings are complete – "getting out of the ground," as Parrino described it – the steel structure of the building will be assembled.
Without any delays from weather or the Covid-19 virus, that process could begin sometime in June.
The expected opening date is scheduled for May or June of 2021.
The new 13,000 square foot facility will replace the current 2,500 square foot storefront on Park Avenue. The new library will have a walk-in café, learning lab, community room, and a shared space for stacks, reading, and teen programs.
- By Steve Scarpa, Manager, Communications and Public Relations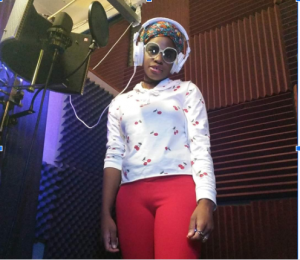 Hartford resident Tenaya Taylor is many different things – an artist, an activist, and a social justice advocate are just a few.
"I can't help but to talk about injustices," Tenaya said.
It's only recently that Tenaya is recognizing how those things feed one another.
"I've been trying to consolidate all the work I've been doing," Taylor said.
Taylor recently lent her talents to Hartford Public Library's online programming, demonstrating how to make artistically crafted bookmarks. The bookmarks were certainly a lovely diversion, but Taylor was passing along something else. "I wanted to give people hope," Taylor said.
Ever since Taylor was a child, creating has been an important part of life. Tenaya received encouragement from a teacher at a young age and while aspects of the Hartford arts scene can be elitist, street and self-taught artists welcomed Taylor among them.
Taylor wants to make art that is relatable, usable and accessible. If the work ended up in Marshall's, Tenaya said with a laugh, that would be great. "I'm like the black Martha Stewart," Taylor said. "I like bright sunny things."
There was time spent in a 9 to 5 job, but that kind of work just didn't agree with Taylor. Tenaya needed space to pursue all facets of life.
"The joy of autonomy is priceless," Tenaya said. "I need to have busy hands."
– By Steve Scarpa, Manager, Communications and Public Relations
– 30 -
Hartford Public Library and the Hartford Public Schools continue to take tangible steps to help children's literacy in low-income neighborhoods across Hartford. No virus can stop that effort.
Through its partnership with First Book, a nonprofit organization committed to distributing free books in low-income areas, HPL purchased over 2,000 books and gave them out at several of the Hartford Public Schools'  food distribution sites on Wednesday, April 29.
With the library closed, HPL Children's Librarian Denise Martens' home became the staging area for the packing of all those books. Once packed, Martens and the other children's librarians picked the books up and brought them around the city. "We were really able to get quality books, diverse books – books kids want to read," she said.
Hartford has many of what have been described as "book deserts" – areas where books are rare in the home and access to purchasing them is extremely limited.
A 2001 study noted that on average in a middle class community one child had access to 13 books. In poverty ridden neighborhoods similar to those found in Hartford, there was a single book for every 300 children. When the study was repeated in 2014, the results in low-income neighborhoods were even worse, with a single book being available for over 800 children, according to a 2016 article in The Atlantic.
Children make the majority of their neurological connections through the age of three. Without a rich vocabulary that can only be augmented through engagement with print, children from low-income families will face another disadvantage.
"There are all kinds of studies that show that kids who have access to books have better outcomes in school," Martens said. "Our hope is to put books in the homes, giving kids the opportunity to be in more interactive-rich environments."
This book distribution is part of an ongoing effort. First Books gave HPL a grant for $40,000 in the Fall of 2019 to be used for the purchase of new books. The library then partnered with nine Hartford schools located in low-income neighborhoods.
Approximately 24,000 new books were given to Hartford schoolchildren over the course of this school year. The books were chosen by both students, looking for what they might like, and teachers trying to match the texts to a child's literacy level.
"My hope is that the project will get bigger. This is something that we will continue to pursue," Martens said.
– By Steve Scarpa, Manager, Communications and Public Relations
– 30 -
Coconut-Marinated Pork Tenderloin with Green Onion-Peanut Relish
From "Bobby Flay's Barbeque Addiction"
By Bobby Flay
TX840 .B3 F5194 2013
By Julie Styles, Manager of Public Services, Central Branch
It's still freezing outside. But it's late April, so I'm ignoring that small detail. I refuse to wear socks anymore, and I stopped wearing a coat 3 weeks ago.
So when my husband asked what we should make for dinner, I shouted, "let's grill!" He looked at me like I was crazy, but only for a second. Then his eyes lit up and looked outside. It wasn't raining, and it was still light out. "We can do that!" I consulted one of my favorite warm-weather cookbooks–"Bobby Flay's Barbecue Addiction," ignoring the fact that it was 40 degrees outside.
Bobby Flay has produced a LOT of cookbooks, maybe too many, and we have our fair share of too many in our house, including a similar-sounding one called "Bobby Flay's Grill It". Like "Grill It," this one talks about the right equipment (gas or charcoal grill?),  the right technique (direct or indirect heat?), and the right ingredients (unsalted butter, please), but "Barbecue Addiction" takes us beyond simple grilling and to a world full of smoky flavors, sauces, sides–and cocktails!
After choosing our cocktail for the evening (because, priorities), we decided to make the "Coconut-Marinated Pork Tenderloin with Green Onion-Peanut Relish." Mainly because it sounded delicious, but really because we pretty much had all the ingredients in our kitchen already and could skip a depressing mask-and-gloves trip to the grocery store.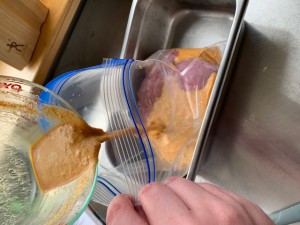 The pork is first marinated in a combination of coconut milk, lime juice, and some spices, including fiery hot Scotch Bonnet chilies. (And yes, we had those on hand. We're weirdos, okay?) An easy way to deal with marinade is to use a large zip-top bag to hold everything instead of a bowl–it ensures the meat is fully immersed in the liquid, and takes up less room in the fridge. Once it's tucked into the marinade, the pork chills in the fridge for at least 2 hours. Might as well have another cocktail!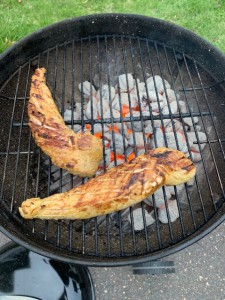 After soaking up a ton of flavor and turning a gorgeous golden-yellow color, the pork is grilled — we have a simple Weber charcoal grill — so Eric put on his toastiest sweatshirt and headed out to the yard while I stayed inside and made the relish.
When I say "relish", I don't mean that vinegar-y pickle condiment you put on hot dogs. This is simply some chopped green onion, cilantro, and peanuts. And chopped peanuts make anything extra yummy. Crunch and salt? Why, yes, please. Bobby says you can pulse it all in a food processor to make it more of a chunky puree, but we stuck to the chopped version. Gotta have that crunch!
The pork grilled up beautifully tender and had a rich, slightly spicy flavor. The coconut milk and bit of curry powder gave it great depth that subtly suggested far-away lands. The relish balanced it nicely with oniony, salty, and herbaceous flavors.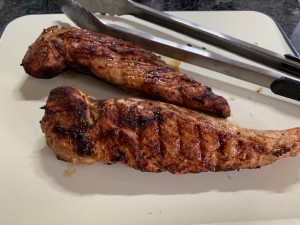 While this dish would probably be served best on a backyard patio table in 80-degree weather, the Jamaican flavors and charry grilled bits were just enough to let us pretend it was summer while we ate indoors, radiators hissing, heat cranked up just enough that I didn't miss my socks.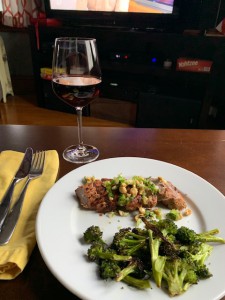 When the library re-opens, you can find this cookbook in the non-fiction shelves under call number TX840 .B3 F5194 2013. Until then, you'll find the recipe here: http://bobbyflay.com/recipes/recipes/72/coconut-marinated-pork-tenderloin-with-green-onion-peanut-relish
-30-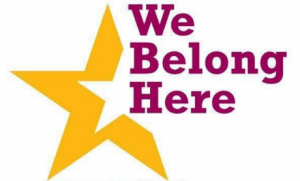 The coronavirus has disrupted society, making simple acts of connection difficult. That made it all the more important for the staff of Hartford Public Library's The American Place to find a way to overcome that difficulty and continue to serve.
Julie Redding, Hartford Public Library's Crossroads to Connectivity coordinator, is using her weekly check-ins to strengthen relationships and to make sure that the couple of hundred people served by TAP have what they need to stay on track towards their goals.
"We want to support them when their lives are upside down like everyone else," Redding said. "It's a little bit like casework. What can I do to help you?"
The COVID-19 outbreak presents unique challenges to immigrants and mixed-status families who are disproportionately affected by layoffs, suffer from food insecurity, more likely to lose their housing and lack access to technology.
"They are extremely vulnerable. The tools of living can be tricky for them because of their basic communications skills," Redding said.
Despite the library's closure, The American Place has continued to provide critical services. They've distributed tablets with a built in data service that doesn't require WiFi, many times personally delivering the equipment to the people in need. They've moved free ESOL and citizenship classes online. Immigration attorneys continue to service families already in the citizenship process, in addition to work staff members were already doing conducting surveys and wellness checks.
"I've doubled and tripled contacts figuring that they need the support and pointing them towards community resources," Redding said.
Redding's Connection to Connectivity program was intended to be supportive, meant to supplement what was going on in classrooms and programs. With the closure of schools and universities, that has changed. "In most cases, the laptop is how they receive their instruction," Redding said.
In addition, The American Place staff has been training educators to do their own online instruction.
For Homa Naficy, the executive director of The American Place, there was no chance that a virus would stop their good work.
"Many immigrants aspire to become American, as you have greater liberties and vaster opportunities for economic and academic growth than anywhere in the world. They will be able to afford a better life for their children. For many the path to citizenship is an arduous and daunting process. Given the sense of helplessness and fear that all of us are feeling today, if there is any way that we can offer some sense of hope and some form of care to individuals during this pandemic we should. We can all do something for each other, its recognizing what that something is," Naficy said.
- By Steven Scarpa, Manager, Communications and Public Relations
– 30 –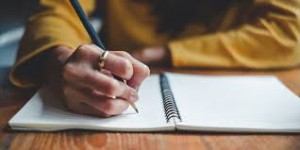 The blank page can be a frightening thing. Perhaps even more scary is what lands on it once you start writing.
But in Christopher Pressley's mind, writing is an important process towards growth as a person. "You can't judge what comes up in you. Once it starts flowing out, it's like undamming a river. You don't know what it built up in there," said Pressley, a 34-year-old Hartford resident who is a social worker and writer.
He advocates journaling once a day and recently conducted an online workshop for Hartford Public Library espousing his beliefs. The writing doesn't need to be polished or more than even a few sentences. It's not making art, although a person could use the journal that way at some point, he said. Journaling is closer in tone and feeling towards meditation, a way of becoming deeply in touch with one's heart and mind.
"It's such a personal thing," he said.
There is no one way to do it. The key, he said, it to approach the process with openness and with a belief that writing will help you.
"(People who journal successfully) identify and connect in some way. They see value from their own perspective, that it is a good thing for me to do," Pressley said.
Pressley, a Bridgeport native, started writing in middle school and kept up with it into high school. His sister wrote poetry and that inspired him. He lost touch with writing for pleasure in college, but once he graduated the pull towards the craft returned. As he was getting his master's degree from the University of Connecticut in social work, the impulse to write manifested in short stories and essay, a more direct mode of expression in his mind than poetry.
In his practice as a social worker, Pressley is interested in the concept of self-care and how it impacts the wider community. "Our behavior is definitely a function of the environment … if we are spending time around people who are positive, joyful, and peaceful, they are going to rub off on you. The more we develop that in our community, there more it will be reflected in all of us," he said.
Journaling is one more tool at his disposal to help people become happier in their own lives, hopefully helping to create a better Hartford.
"If everybody in the world started doing this tomorrow there would be tremendous transformation. It is another tool to see what is going on in your mind. You can see what is going on in your life. You can make changes," he said.
For people interested in journaling, Pressley suggests taking a look at The Artist's Way by Julia Cameron as one way to begin.
- By Steve Scarpa, Manager, Communications and Public Relations